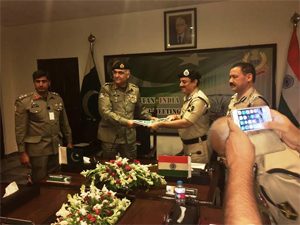 New Delhi. 28 July 2016. Indian Border Security Force (BSF) and Pakistan Rangers met at Lahore for the bi-annual meeting from July 25-28.
The BSF delegation to the meeting was led by its Director General, K K Sharma and the Pakistan delegation was led by Director General, Pakistan Rangers (Punjab), Major General Umar Farooq Burki.
The meeting was held in a cordial atmosphere and with a spirit of cooperation. It was agreed that since the last such meeting in Delhi in September 2015, there has been a greater adherence to ceasefire along the International border.
DG, BSF stressed the importance of vigilance against cross border infiltration to prevent terrorist activities and check smuggling in narcotics. Both sides discussed ways to strengthen measures to coordinate border patrolling on their respective sides of the border and address each other's concerns in a time bound manner.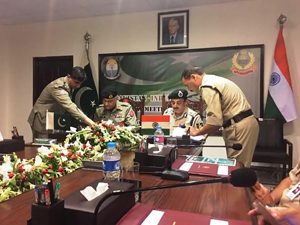 The Joint Record of Discussion charting a future route map of cooperation between the two Border Guarding Forces was signed earlier in the day today at 1100 hrs on July 28, 2016. DG BSF invited DG Pakistan Rangers (Punjab) to visit India for the next round of the bi-annual talks. The talks ended on a optimistic note with both sides agreeing on constant endeavor to maintain peaceful and tranquil borders.