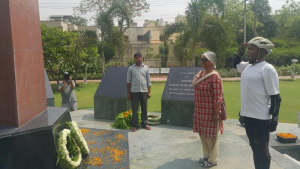 New Delhi.18 April 2017.Major General Somnath Jha (Retired), 58, after having spent 37 years in the service didn't want to simply hang up his boots the usual way. He remains the man on mission. Being a third generation soldier of the Indian Army he took up the daunting task of cycling throughout the Country in the memory of our fallen soldiers.
Maj Gen Jha decided to pay homage to each of around 21,000 Armed Forces personnel, who have lost their life since Independence, by cycling for two minutes for each of them. In the words of Maj Gen (R) Somnath Jha "This is my symbolic homage to my brethren who didn't have the privilege of retiring as I did since they made the supreme sacrifice before that".
He hit the road 18 days after he retired on 19 Oct 2016 starting his journey from Ambala Cantonment (from where he retired) and has cycled for 42,000 minutes across 29 states over a period of seven months. Gen Somanth Jha reached Delhi Cantonment his penultimate day of his homage journey. He shall be concluding his homage journey at the Amar Jawan Jyoti in New Delhi on 19 Apr 2017 where he shall lay wreath to pay homage to fallen comrades.
During the journey his day would start usually early in the morning and would cycle till he hits his day's target which could be anything between 70 to 150 km taking minimal breaks in between. The couple paid homage to every war memorial in their way of journey. At his age he could achieve the feat speaks volumes about his dedication and feelings for the honourable cause.
Commissioned in the 11th Jammu & Kashmir Light Infantry, Major General Jha is not new to such adventures. He has several challenging achievements under his belt — like scaling Mt. Kilimanjaro at the age of 54 and learning paragliding at 56. Major General Jha is not alone in his one of a kind endeavour. He is accompanied by his wife Chitra – who is, a life skills coach and author of several motivational books. Mrs Chitra Jha takes care of the liaison and logistics making arrangements to stay at the next place of halt.