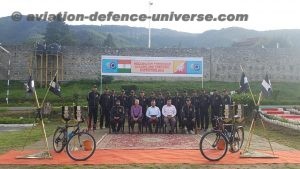 New Delhi. 08 August 2018. 
A joint Cycling cum Trekking Expedition of
Indian Army
and Royal Bhutan Army was conducted to commemorate "Fifty years of Establishment of Diplomatic Relations between India and Bhutan". The expedition began on 31 July from Haa Dzong in Bhutan and was flagged-in at Thimpu on 07 August 2018.  A total of seventeen personnel of both armies participated in the expedition which covered a total of 384 kms of distance across challenging mountainous terrain in both India and Bhutan.
The expedition team passed through Binnaguri in India during the final phase of expedition.  The expedition has furthered the strong bonds of bonhomie between the two armies, adding yet another glorious moment in the relations between the two nations.