By Col NB Saxena
New Delhi. 28 January, 2016. The Beta Version of Integrated Quartermaster Package (IQMP) was released by the VCOAS,  Lt Gen MMS Rai, as a pre-cursor to the final release of IQMP. As part of ongoing efforts, DGIS with the help of M/s Tata Consultancy Services Ltd, has devp Integrated Quartermaster Package for automating all logistics functions at the unit level.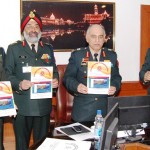 This has been developed as a web based application using contemporary technology and aims at equipping units with a software application for managing the internal logistics activities at unit level and also to cater for exchange of info and data with Logistics Management Support applications through CMA (Central Management Application) hosted at Army Headquarters Computer Centre, thereby avoiding efforts replication and achieving the aim of automation. In IQMP, total 12 important modules pertaining to various logistics functions in the unit have been developed in an integrated manner as part of a single application.
The full functional Beta Version of IQMP will undergo rigorous exploitation in the test bed units comprising of all Arms & Services across all the Army Commands. The final roll out of the IQMP is planned in the Indian Army by mid 2016.