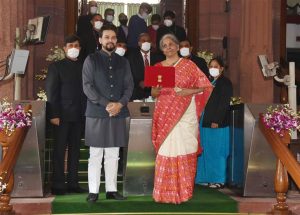 By Cmde Ranjit Rai (Retd.)
New Delhi. 06 February 2021. The Armed Forces have been on alert and over 40.000 troops stand guard in icy Ladakh, and a larger number along the Tibet, Arunachal and Sikkim borders and the LOC. It is to be noted, China after gobbling the South China Seas by claiming an illegal Nine Dash Line (by UNCLOS 1982 rules) for EEZ(Exclusive Economic Zones)for its maritime geography that it lacks, and converting rocks into fortified islands has eyes to be an Indian Ocean power in its march to be a super power. China views India as an impediment. In this backdrop with heavy pressure on India's post Covid falling economy Finance Minister Nirmala Sitraraman sounded the budgetary bugle in Parliament on 1st February with larger allocations for social, health and Aatamnirbhar(self reliance) sectors for India to achieve higher growth in 2021-22, which if fulfilled will take India to heights, and if not, the nation may face more challenges.
Sitharaman allocated Rs 4,78,195.62 crore (around $64 billion)for the Ministry of Defence(MOD) for 2021-22 which includes a reduced pension bill of Rs 1,16 000as against last year's Rs 1,25,378 crore, leaving Rs 3,62,000 crore($49 billion) for Defence against last year's Rs 3,37,000 crore($44 crore). The media reported it as the highest in 15 years. but the devil lies in the analysis. The savings have been made by reducing the pension bill and the naval allocation stands reduced and naval orders for four landing platform dock(LPDs) and the third aircraft carrier were stalled. Chief of Naval Staff Admiral Karambir Singh has lamented the Navy's allocation of the defence budget has been reduced to13% from 18% after Doklam in 2017. The Navy's maritime development plans targeted for 2027 to have 200 ships and 400 platforms has been pruned. The lament is defence allocation is only 1.5% of the nation's GDP in these challenging times and the military, annually relies on revised estimate allocations.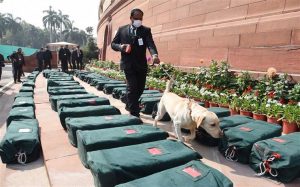 The world is witnessing power shifts, and instability. The importance of India is rising on the world stage, and India's Armed Forces list of needs for modernisation to meet the land and maritime threats has increased. All military eyes were looking forward to the 2021-22 budget, but the Finance Minister has delivered a flattish defence budget in real terms taking inflation into account, and made cosmetic changes to make it acceptable with Air Force getting the lion's share. This comes at a time when the Covid pandemic is lingering and the scepter of an escalating US China competition is not abating, and there are rising tensions on the India-China and Pakistan borders. China is standing firm after its transgressions in Ladakh and is also surreptitiously increasing its collusion with Pakistan on the maritime front, that even made Army Chief Gen MM Naravane allude on Army Day to say the collusion is creating challenges on the Line of Control(LOC) with Pakistan. A QUAD of USA, Japan, Australia and India has formed to meet the China threat in the Indo Pacific and a lot is being bet on the role of the Indian Navy whose order of battle(ORBAT) needs to be attended to, as aging Kilo class submarines and over a dozen ships will be de-commissioned in the next few years. Navy looks forward to SSBN Arighat joining INS Arihant to augment India's underwater deterrence capability and an order for six SSK or six SSNs sanctioned by the Defence Acquisition Council(DAC).
In 2020-21 after the Galwan incident on 15th June the air force, the army and navy in that order of quantum's, made emergency purchases by over spending of around Rs 20,000 crore from the budgeted Rs 133,825 crore. Funds were also disbursed from those delegated to the services. The Air Force hastened supply of eight Rafales from the thirty six ordered from France in September 2016 worth Rs 59,000 crore as an emergency purchase to arrest the worrying slide in the IAF's combat squadrons to below 30. This led to increased spending for the air force in 2020-21, which also inducted a new BrahMos-armed Sukhoi-30MKI fighter 222 Tigershark squadron at Thanjavur in Tamil Naidu and Akash AA missile systems. Air Chief ACM RKS Badhuria has stated all 36 Rafales will be in India by 2023. Hindustan Aeronautics Ltd(HAL) signed a Rs 48.000 crore order for 83 LCA Mk 1 at Aero India which will have the larger EL/M 2052 radar, aerial refueling capability and an external EW pod. Navy even paid for two Sea Guardian drones on lease for one year with option to buy from General Atomics.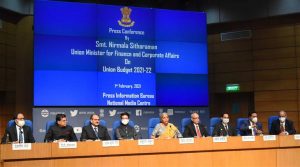 The capital outlay of the defence allocation for FY 2021-22 is Rs 1,35,000 crore as against last year's revised estimate of Rs 1.34,500 crore. In 2020-21 the revised capital expenditure was Rs. 33213 crore for the Army, Rs 37,542 crore for the Navy and Rs 55,055 crore for the Air Force. In 2021-22 capital allocation for the army is slightly increased to Rs 36,482 crore, and reduced for the Navy to Rs 33,254 crore and kept high at Rs 53, 215 crore for the Air Force. Last year Army received small arms, ammunition, artillery and specialized winter clothing for troops, and funds for infrastructure in Ladakh. An order for 11 SU-30MKI and 23MIG-29s from Russia is being negotiated and six Airbus 330 will be leased from Air India to be made into AEW Netras for the IAF. Hence the increase in the budget for the IAF, which was activated last year to give message to China at the height of tension in Ladakh. The Armed Forces will be forced to tighten belts and make do the best they can with the budget.