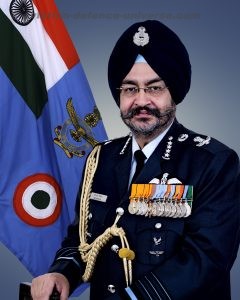 New Delhi. 25 Sep 2017. Air Chief Marshal Birender Singh Dhanoa, Chief of the Air Staff is on an official visit to USA from 26-28 Sep 17 to attend Pacific Air Chiefs Symposium at Hawaii.
The visit is intended to further strengthen the existing defence cooperation between the Air Forces of the participating countries in the Pacific region. In addition to the hosts, there would be Air Chiefs from 18 countries including Australia and Japan attending the Symposium.
During his stay at Joint Base Pearl Harbour – Hickam, Hawaii, the CAS would be addressing Air Chiefs from various Air Forces attending the Symposium. In his talk he will delve on the Indian Air Force's perspective on the challenges to Regional Security.
The Symposium is aimed at strengthening relationships, enabling engagement in productive exchanges and promote understanding of joint issues and challenges. Discussions would also take place on air perspective in the maritime domain along with issues like counter-insurgency.
The visit of the Indian Air Force Chief would provide further impetus towards increasing defence cooperation between the Pacific region Air Forces and pave the way for greater interaction and cooperation in future.
Like the first Pacific Air Chiefs Symposium, which took place in 1989, PACS 17 provides a unique opportunity for the air chiefs to articulate common regional challenges and goals, maintain rules based international order in the Pacific, and increase interoperability with allies and partners.
The strategic complexity facing this region is unique and multi-faceted in that it requires coordination between nations. For that reason, the symposium is based on the belief that no nation, regardless of how powerful, can meet global challenges alone. PACS 17 demonstrates the commitment of the U.S. and its allies and partners in the stability and security of the Indo-Asia-Pacific region.