New Delhi. Ministry of External Affairs, through its 183 missions/posts abroad, launched the "Make in India" campaign simultaneously through organising roadshows and seminars on September 25, 2014. The campaign aims at promoting India as an investment destination and as a manufacturing hub by attracting the global investors to manufacture their products in India by making use of country's qualified and affordable workforce, huge domestic market, and other advantages.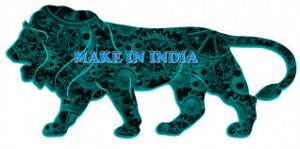 The "Make in India" campaign focuses on 25 sectors including automobiles, auto components, aviation, biotechnology, chemicals, construction, defence manufacturing, electrical machinery, electronic systems, food processing, IT and BPM, leather, media and entertainment, mining, oil and gas, pharmaceuticals, ports, railways, renewable energy, roads and highways, space, textiles and garments, thermal power, tourism and hospitality and wellness.
Indian Missions/Posts have been publicizing various flagship programmes of the government including Clean Ganga, Swachh Bharat, Skill India, Smart Cities, Digital India, etc. through road shows, seminars and special investment focussed events. Indian Missions/posts are also disseminating information on the "Make in India" campaign by giving wide publicity to the efforts made by the Department of Industrial Policy and Promotion in simplifying procedures for doing business in India, as well as the increase in FDI limits in sectors such as insurance, railways and defence. India as a "Partner Country" at the 2015 Hannover Messe Fair in Germany also effectively publicized the "Brand India" among the international business community. All of these efforts have created a positive image of India and generated tremendous interest among foreign investors in India.
The FDI policy of India provides a uniform platform for investors from all around the world irrespective of the country of their origin and offers equal investment opportunities to all. Incentives, if any, will be offered to all investors depending on the sector and the state they plan to invest. Sector-specific incentives are usually offered by the concerned Ministry/Department. State-specific incentives are different from state to state.
Efforts made by the Missions/Posts towards promoting India as an investment destination have helped in creating a positive image of India and, as a result, FDI equity inflows rose from US$ 24.3 billion in financial year 2013-14 to US$ 30.9 billion in financial year 2014-15, a growth of 27.3%.