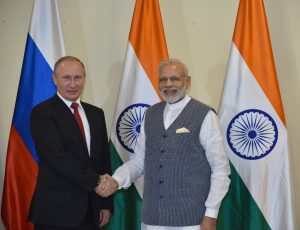 Old friends after a small separation reunite
Goa. 15 October, 2016. When Prime Minister Narendra Modi  stated with conviction, "an old friend is better than two new friends" it seemed like old days when Russia was India's biggest ally and sun seemed to be rising from a new horizon.  The two leaders witnessed exchange of 16 agreements and 3 announcements across fields.
The long awaited signing of the shareholder agreement for establishing a Joint Venture to manufacture Ka-226T helicopter in India, happened between Anatoly Isaykin, Director General of Rosoboronexport, Alexander Mikheev, Chief Executive Officer of Russian Helicopters and  T. Suvarna Raju, Chairman and Managing Director (CMD), Hindustan Aeronautics Limited (HAL). The countries agreed to jointly manufacture 200 Kamov 226T multi-use helicopters in India. This will be a fillip to Modi's Make in India dream.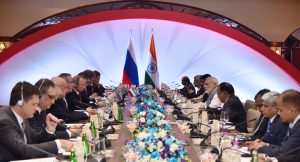 The two nations also signed an Inter Governmental Agreement to purchase/construct four additional 1135.6 frigates though partnership between Russian and Indian shipyards. Alexander Fomin, Director of the Federal Service for Military-Technical Cooperation     and India's Ambassador to Russia  Pankaj Saran signed the IGA. These are Admiral Grigorovich-class stealth frigates and under this deal, two vessels will come from Russia and while the other two will be built in India with Russian collaboration.
The most talked about and very much awaited was the signing of IGA for the procurement of S-400 Air Defence System by Alexander Fomin and Amb Pankaj Saran. The S-400 is Russia's most modern air defence system and has been deployed to Syria. India and Russia have been in talks for over a year for the purchase of at least five systems of S-400 that will be a game changers in the region.
It is capable of firing three types of missiles, creating a layered defence, and simultaneously engaging 36 targets. If India signs the deal, it would next to only  China which is also buying the system from Russia.
Space was another frontier the two countries collaborated on. MoU between ISRO and ROSCOSMOS on Mutual Allocation of Ground Measurement Gathering Stations for GLONASS AND NAvIC            Sergey Savelyev, Deputy Director General of the State Space Corporation ROSCOSMOS and Dr A S Kiran Kumar, Chairman, ISRO was signed.
The success of this Summit shines a spotlight on the abiding strength of India-Russia strategic partnership. It also highlights the  strong convergence of views and positions on pressing international and regional issues.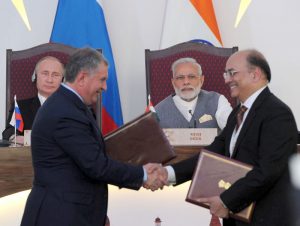 "Russia's clear stand on the need to combat terrorism mirrors our own. We deeply appreciate Russia's understanding and support of our actions to fight cross-border terrorism, that threatens our entire region.We both affirmed the need for zero tolerance in dealing with terrorists and their supporters. President Putin and I noted the similarity of our views on the situation in Afghanistan and turmoil in West Asia. We also agreed to work closely to respond to the challenges posed by the unsettled nature of the global economic and financial markets. Our close collaboration at the United Nations, BRICS, East Asia Summit, G-20, Shanghai Cooperation Organization makes our partnership truly global, both in its scope and coverage," explained Modi.