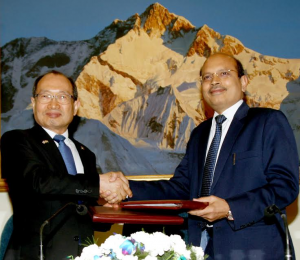 New Delhi. 21 April 2017. India and the Republic of Korea (RoK) signed an Inter-governmental Memorandum of Understanding (MoU) for Defence Industry Co-operation in Shipbuilding here today. The MoU was signed by Secretary (Defence Production), Ashok Kumar Gupta from the Indian side and Minister of Defence Acquisition and Programme Administration (DAPA), Chang Myoung-Jin from the RoK side. The MoU will help the 'Make in India' initiative of the Government of India.
The salient points of the MoU are as follows:-
• Develop and strengthen defence industry co-operation between Republic of India and the Republic of Korea.
• The two sides will recommend the organisations for collaborating in the implementation of specific projects.
• The organisations recommended for co-operative projects may conclude separate agreements (contracts) between them to implement the specific projects.
• The MoU will come into effect from the date of signature by both sides and will be initially valid for a period of five years and would be automatically extendable for further successive five year at a time.
The Inter-Governmental MoU, was conceived under the overall umbrella of the 'Special Strategic Partnership' between both sides as declared in the Joint Statement of the Prime Minister of India and the President of RoK in May 2015.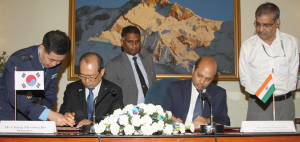 To substantiate the 'Special Strategic Partnership', the two sides had inter-alia agreed to encourage greater co-operation between their shipyards in the defence sector. Accordingly, it was decided to sign an inter-governmental MoU on 'Defence Industry Co-operation in Shipbuilding'. The Cabinet Committee on Security (CCS) has accorded its approval for signing the above MoU with RoK and also for nominating Hindustan Shipyard Limited (HSL), Visakhapatnam from the Indian side for the collaboration. RoK will indicate the name of its recommended organisation for the collaboration in due course of time.
The co-operation with the recommended Korean Shipyard would enable HSL to upgrade and modernise its facilities and execute naval shipbuilding projects in a timely and cost effective manner. HSL would be able to imbibe best practices in shipbuilding leading to effective project management.
As a result of the proposed partnership, the production of HSL is expected to grow substantially, leading to creation of more employment avenues. Further, in consultation with the recommended Korean partner, it is planned to identify and develop indigenous sources/vendors for the supply of majority of the material and equipment that would be needed in co-operative naval projects, thus paving the way for the development of ancillary industry /maritime cluster in the region.