Does India stand tall in North Korea vs US?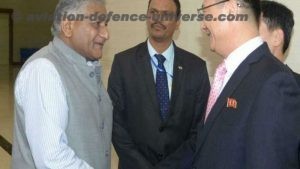 By Sangeeta Saxena
New Delhi. 18 May 2018. Eyebrows are raised both in surprise and disbelief  as the Minister of State for External Affairs General V K Singh was in Pyongyang North Korea – a  first  for any Indian Minister in  nearly two decades-  for talks on political and regional issues, as the  Ministry of External Affairs (MEA) informed the media.  And not without a reason! North Korea's closeness to both China and Pakistan, India's not-so-friendly neighbours and flexing muscles at India's new found friend USA, have given India reason to be sceptic of the errant Korean nation. Not to forget India's friendly ties with  South Korea.
But with the ice thawing not only between the two Koreas but also between North Korea and US , this diplomatic initiative comes as a sign of India's reiteration of maintaining peace in the region  and supporting  the peace initiatives in the Korean peninsula. India's diplomatic relations with North Korea are 45 years ago and it has an embassy there with skeletal staff.
India and North Korea officially known as Democratic People's Republic of Korea (DPRKorea) shared a relationship of friendship, cooperation and understanding  but in recent years it halted trade and aid under  global pressure to isolate Pyongyang over its nuclear and missile programmes led by USA.
India has been a critic of North Korea's nuclear proliferation record and has also voiced concerns over its military relationship with Pakistan. India has repeatedly condemned North Korean nuclear tests and views its nuclear programme as a threat to regional security. Despite this situation it may be recalled that  in October last year, India had stated that it will not shut its embassy in North Korea, reiterating  that  US  must have some friendly countries that have embassies in Pyongyang so that "communication channels are open".  Last year, when then-U.S. Secretary of State Rex Tillerson raised the issue of India's diplomatic relations with North Korea, India said they were minimal and aimed at keeping open some channels of communication with the reclusive state.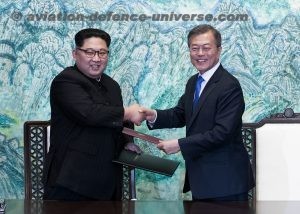 The official statement from Ministry of External Affairas(MEA)  stated that Gen V K Singh began the two-day visit to North Korea on Tuesday and reiterated New Delhi's support for peace initiatives on the peninsula. He met the Vice-President of the Presidium of the Supreme People's Assembly  Kim Yong Dae, Foreign Minister Ri Yong Ho and Culture Minister Pak Chun Nam.
The MEA statement also  mentioned that the  MoS highlighted the threat from nuclear proliferation, in particular India's concerns in the context of the proliferation linkages with India's neighbourhood. North Korea has assured India that "as a friendly country DPRK (N. Korea) will never allow any action that would create concerns for India's security." The North Koreans also briefed Gen. Singh about the recent developments in the Korean peninsula including the peace talks between the two Koreas.
Ties have not been stalled and in the recent past on 23 April 2015 North Korean Foreign Minister Ri Su Yong visited New Delhi for talks with Indian Foreign Minister Sushma Swaraj on North Korea's nuclear programme and to request additional humanitarian assistance but no agreement was reached because of the then  North Korean statement in support of Pakistan.
Traditionally India has been contributing  food grains to help North Korea to tide over famine like conditions and has always  responded to North Korea's request for food aid and made available to it pulses and wheat through the UN World Food Programme.
With inter-Korean détente and happy pictures of the two Koreas' leaders crossing and re-crossing from both the sides at the DMZ(Demilitarized Zone) and impending talks between US President Donald Trump and Kim Jong-un, North Korea President gave a positive feel to the world treading softly towards peace. But how long will this new found love last is the million dollar question? With North Korea having cancelled the high level talks fixed for the Wednesday just gone by and rumours of Kim having decided against talks with Trump, uncertainty over the Korean peninsula still prevails. In such a condition good friend to both DPRK and USA India might get a chance to play cupid.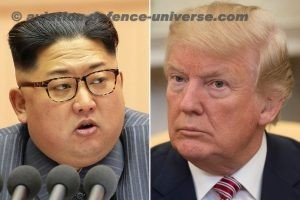 The North Korea recently in a statement said it was suspending high-level talks scheduled for Wednesday in view of "provocative military disturbances with South Korea which came as the two allies were conducting annual "Max Thunder" air force drills, which Pyongyang has always objected to in the past and accused of destabilizing the situation on the Peninsula. In a statement, South Korea's Unification Ministry said it was regrettable that the North unilaterally postponed the talks due to the annual (South Korea-US) joint air combat drills."
North Korea threatened to cancel its meeting with Trump, via a statement from the nation's vice foreign minister. "If the Trump Administration is genuinely committed to improving NK-US relations and come out to the NK-US summit, they will receive a deserving response," the minister, Kim Kye-gwan, said in a statement. "But if they try to push us into the corner and force only unilateral nuclear abandonment, we will no longer be interested in that kind of talks and will have to reconsider whether we will accept the upcoming NK-US summit."
It is a path of peace where angels would have feared to tread but all eyes are on the three travellers DPRK, ROK and USA. A step ahead and two steps back – will this make the road to peace in the most diplomatically sensitive zone of the world rough and bumpy? Lets wait and watch as events unfold. Meanwhile the world can keep its fingers crossed.