15 out of 16 votes go in favour of Kulbhushan Jadhav
Counsellor access to be given to Jadhav
Pakistan asked to review conviction sentence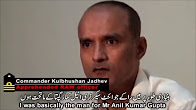 New Delhi. 17 July 2019. In what was a major diplomatic victory for India and a relief for Kulbhushan Jadhav and the complete nation, the International Court of Justice in a judgement delivered today in The Hague
directed that Pakistan should review and reconsider the conviction and sentence given to Jadhav by the its military court.

ICJ has directed that Pakistan is under an obligation to inform Jadhav without further delay of his rights and to provide Indian consular officers access to him in accordance with the Vienna Convention.
The appellate court expects Pakistan to implement the directive immediately. It also upheld India's claim that Pakistan is in egregious violation of the Vienna Convention on Consular Relations, 1963 on several counts.
It may be recalled that India first approached the Court on May 8, 2017 for egregious violation of the provisions of the Vienna Convention on Consular Relations, 1963 by Pakistan in the matter. The Court had on 18 May 2017 indicated provisional measures as requested by India and passed an order obligating Pakistan to not carry out the sentence that was awarded to Indian national Kulbushan Jadhav through a farcical trial by the Military Court of Pakistan.
As per the Court order, India had filed written pleadings (Memorial) in the case on 13 September 2017 and Pakistan filed its Counter Memorial on 13 December 2017. Today, India filed its Reply to Pakistan's submissions to the Court. Pakistan has been given time till 17 July 2018 by the Court to file its response ( Rejoinder).