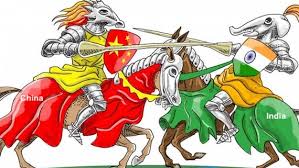 By Cmde Ranjit B Rai (Retd.)
New Delhi. 04 January 2021. The year gone by will be remembered as the year of Global Stress when COVID 19 derailed the world's mobility, economy and harmony. The virus that spread from Wuhan early this year took the world by surprise, and has succeeded in transforming the world's Geo-strategic equations and partnerships. Led by President Trump USA challenged China early in the year by breaking business bonds. China took advantage of COVID to disrupt its peace with India in Eastern Ladakh along the Line of Actual Control(LAC) as it saw Aksai Chin and its massive investments in the China Pakistan Economic Corridor(CPEC) in Pakistan Occupied Kashmir(POK) under threat by India.
China hopes Pakistan will make Gilgit and Baltistan a province of Pakistan when the Pakistan Parliament meets around 20th January. China playing for time continues to ballast Pakistan with loans and military equipment pushing Pakistan, into debt. President Xi Jinping hopes to achieve the China Dream to take on USA and deploy its Navy in the warm waters of the Indian Ocean with bases in Gwadar and Ormara and Djibout where China has made a large dual use military cum merchant ships berthing jetty, aping USA's Diego Garcia.
Realization dawned on democratic nations this year that over dependence on China's cheap goods, and its claim to a peaceful rise is detrimental to their future. India joined the chorus and imposed sanctions on Chinese investments and imports after China's PLA made incursions in to Eastern Ladakh in May. Prime Minister Narendra Modi launched an Atmannirbharta(self reliance) programme to push manufacturing in India. These are early days, but India has advantages to attract foreign investments in manufacturing, with a large talented youth that cries for employment, and democratic nations look up to India's maritime geography to stop China's Great Maritime Game is playing with Pakistan's help to get access to the warm waters of the Indian Ocean which needs repetition. It is a big threat that needs to be faced urgently, before the horse bolts the stable and shared intelligence will play a big part.
To meet the challenges, QUAD nations gathered steam in October 2020 led by Secretary of State Pompeo's push. India signed the last of the four foundational agreements with USA, which QUAD nations have already signed. COMCASA in 2018 has enabled Pentagon to connect Indian Navy with digital Maritime Domain Awareness(MDA) plots with CENTRIX modems. LEMOA signed in 2016, provides Indian Armed with logistics and interoperability with USA and QUAD nations. After signing of BECA this year, USA's space data will be available and the first two Malabar exercises with QUAD navies in November signaled a new message to China to adhere to international norms of free navigation and UNCLOS 1982 and walk back in the South China Seas.
No rational leader of a nuclear state dare risk a nuclear war, so China has been blatantly channeling its energies in coercive actions with its money and military power. China's incursions into South China Seas, Ladakh, Nepal and Bhutan's Doklam in India's neighbourhood and building of ports for nations in the IOR, is testimony to its coercive diplomacy by China's Wolf Warriors. Wolves circle their prey and then pounce on them.
The year 2020 also marks the year, the Government appointed General Bipin Rawat as India's first Chief of Defence Staff(CDS). The photos of Indian Air Force (IAF) planes, Indian Army tanks in the Himalayas and a naval landing ship tank in the Andamans adorns his office as he is tasked to hone the Armed Forces into jointness for war fighting with Theatre Commands, prune budgets and make the armed forces self-reliant to face the emerging challenges with indigenously-developed weapons. It is in this atmosphere that CENJOWS under Chairmanship of Lt Gen Vinod Bhatia organized a seminar on the Changing Dynamics of the IOR, on 18th December, with a galaxy of speakers that included Adm Arun Prakash, Vadms DK Tripathi DGNO, Vadm Dr Amarulla Octavian(Indonesia), Radm S Shrikhande, Lt Gen Manoj Pandey C-in-C A&N and others. The main takeaways are appended in brief.
It was brought out that countries operating in the IOR will feel the ripple effects of the great power rivalry intensifying in the Pacific and IOR, alluding to naval operations by the US and China in the South China Sea, and actions on India's border. The tensions with China could spill over into the maritime front. The statement by CNS Admiral Karambir Singh that Indian Navy is ready to meet any challenge in the IOR, was juxtaposed with his statement about the Navy's meager modernisation plans to counter the Chinese expansion, which has over a dozen ships being commissioned every year. Speakers highlighted that Indian Navy is underfunded but still holds a edge in technology and missile power at sea and MDA, but China is catching up and arming Pakistan's Navy. That should concern Indian strategists.
The three day annual literary festival with a varied fare of speakers and subjects from strategy, tactics and historical recounts began concurrently. Former IAF chief ACM B.S. Dhanoa noted that the probability of a conflict between India and China could never be ruled out, but said that while on paper the Chinese Air Force has huge capability, a lot of natural and logistics factors are flying against it. He accepted there were several advantages that China held militarily yet it was a classic case of, 'Haathi ke daant khan eke aur, dikhane ke aur' because many capabilities of China were in the experimental domain.
In other sessions the theme was on military manoeuvres and challenges from China and Pakistan. Security and foreign experts opined that India must shed hesitations of the past and adopt a more aggressive approach by embracing the QUAD plus nations to tame the dragon. Former CNS Sunil Lanba stated India is very underinvested in its Navy that needs to be spotlighted to meet the China threat and that China is emerging as a major challenge for India, Therefore the country needs to look at the future and frame its diplomatic, political and military strategies accordingly with a White Paper. Lt Gen (retd) DS Hooda participating on "Sabre Rattling in Ladakh" credited India's pre-emptive moves in the Kailash Range in Ladakh in August and opined it has partially neutralised Chinese advantage in that sector, Lt Gen HS Panag, former GOC-in-C, stressed that India must not make any compromises in this situation. Satellite imagery along the 3,488 kilometre LAC shows that the China's PLA is undertaking road and building infrastructure upgrades across the Karakoram Pass and Aksai Chin, to ramp up military capacities and capability against India's threats.
An offshoot of this year's global stress was that digital mobility and digital connectivity has become critical for political, economic, military and even personal lives. India has made leaps, and can take advantage of the opportunities but will have to be more cyber security challenged, as India can be digitally infiltrated as it does not have an Internet 'Fire Wall' that China has established with long term thinking and to subjugate its people and watch them 24X7.
COVID-19 virus is not abating as a new strain has surfaced. In this changed atmosphere no nation can be secure without its own indigenous cyber security infrastructure in place and nations are attending to protect themselves from Cyber leaks and attacks that China is hoping to employ as part of disruption and coercive actions, using Zhuge Liang's 36 dirty tactics of war and Sun Tzu's win the war without fighting, that are taught in Chinese Staff Colleges.