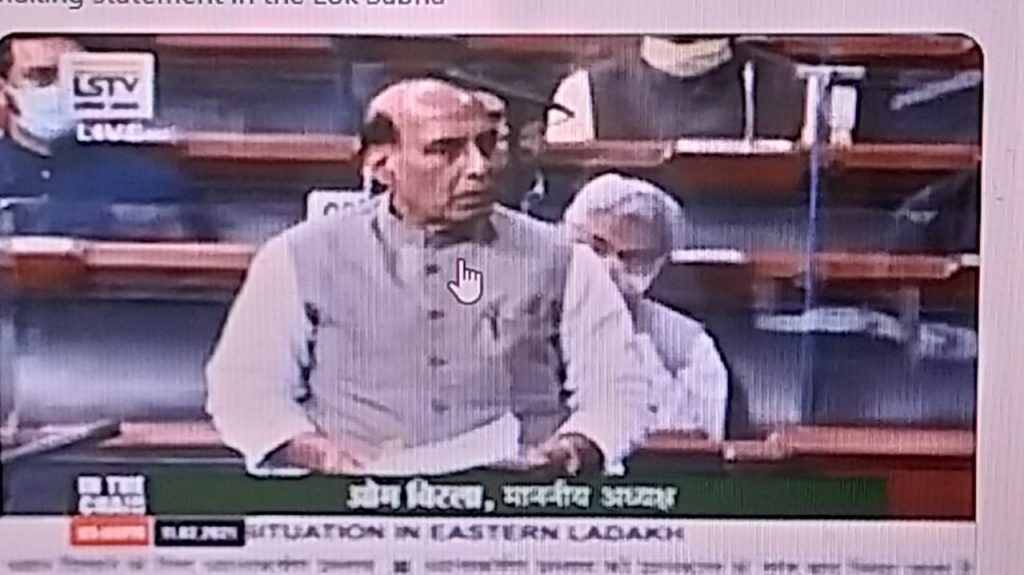 Defence Minister Rajnath Singh informs the Parliament
China starts moving away from North Bank
New Delhi. 11 February 2021. In what was music to ears Defence Minister of India Rajnath Singh informed the Parliament of India and China having reached an agreement for disengagement in the Pangong Lake area to cease their forward deployments in a phased, coordinated and verified manner and the implementation of this agreement started in 10th February 2021.
The Minister informed that an agreement was reached between the two sides to have a temporary moratorium on military activities in the northern bank of Pangong lake and patrolling in the routine areas will also be stopped which will resume only after diplomatic and military levels of talk.
"A similar action would be taken in the South bank area by both sides. These are mutual and reciprocal steps and any structures that had been built by both sides since April 2020 in both North and South bank areas will be removed and the landforms will be restored," he stated.
"I want to assure this House that in these talks we have not conceded anything. The agreement that we have been able to reach with the Chinese side for disengagement in the Pangong lake area envisages that both sides will cease their forward deployments in a phased, coordinated and verified manner." the Defence Minister reiterated.
He ellaborated upon the three key principles which determined India"s approach in handling the situation . These are firstlythe both sides should strictly respect and observe the LAC, secondly neither side should attempt to alter the status quo unilaterally, and thirdly all agreements and understandings between the two sides must be fully abided by in their entirety.
Reminding the members of Parliament the Minister said, "China illegally occupied approximately 38,000 sq km in the Union Territory of Ladakh, mainly during the 1962 conflict. In addition, under the so-called Sino-Pakistan 'boundary agreement' of 1963, Pakistan illegally ceded 5,180 sq km of Indian territory in Pakistan Occupied Kashmir to China. China, thus is in illegal occupation of more than 43,000 sq km of Indian territory. It also claims approximately 90,000 sq km of Indian territory in the eastern sector of the India-China boundary in Arunachal Pradesh."
(Developing Story)