Remembers the valour of its police forces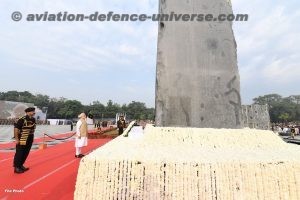 New Delhi. 21 October 2020. The nation led by the Prime Minister and Home Minister paid tribute to the police forces of the nation. 21 October is Police Commemoration Day observed by police departments nationwide. On this date in 1959, a Central Reserve Police Force patrol at the Indo-Tibetan border in Ladakh was ambushed by Chinese forces, as part of the on going Sino-Indian border dispute. In October 1959, Indian troops crossed the Kongka Pass while attempting to establish posts at Tsogstsalu, Hot Springs, and Shamal Lungpa. The Line of Actual Control arising from the 1962 war puts Tsogstsalu and Hot Springs on the Indian side and Shamal Lungpa on the Chinese side.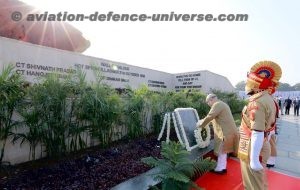 The Prime Minister, Narendra Modi paid tributes to police personnel martyred in the line of duty on Police Commemoration Day. "Police Commemoration Day is about expressing gratitude to our police personnel and their families all across India. We pay tributes to all the police personnel martyred in the line of duty. Their sacrifice and service would always be remembered. From preserving law and order to solving horrendous crimes, from assistance in disaster management to fighting COVID-19, our police personnel always give their best without hesitation. We are proud of their diligence and readiness to assist citizens", Narendra Modi, the Prime Minister said.
On 20 October, an initial Indian reconnaissance team was captured by the Chinese forces. On 21 October, with signs of Chinese presence becoming available, a larger search party was formed for the missing reconnaissance team. They encountered Chinese soldiers at a hill near the Kongka Pass, and a firefight ensued. Chinese forces had a more favourable position in this engagement. Of the 70 Indian soldiers, nine were killed during the engagement, one died later of his injuries and seven were taken prisoner (totaling ten when including the reconnaissance team). One Chinese soldier was killed in the engagement. Kongka pass incident" has been entrenched in the memory of generations of policemen for the bravery of their force and by the nation a tragedy caused by complete lack of co-ordination in Delhi between Home ministry controlling CRPF, and defence ministry with Krishna Menon in charge as a minister.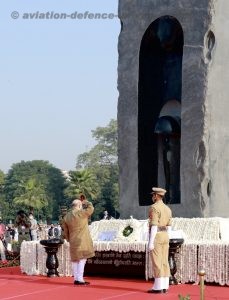 "On Police Commemoration Day, I bow to the great martyrs who fought till their last breath to keep our nation safe. Their commitment towards the motherland inspires each and every Indian. We are proud of our police personnel for their distinguished service & unparalleled courage," said Home Minister of India, Amit Shah.
By September 1959, Chinese had encroached upon Indian areas outside Aksaichin and their army units had started even arresting the Indian border police on routine patrol. Indian Government was still not ready to take any action and on the contrary asked the home ministry to stop border patrols. India's home ministry, controlling the border police, probably were unaware of Chinese build up in Ladakh and what was happening inside Aksichin, and decided to take counter action on its own against Chinese.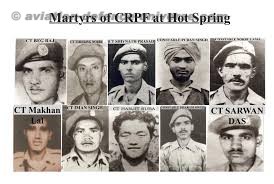 Home ministry ordered Deputy Superintendent of Police or DSP Karam Singh to take a team of 40 policemen and establish police outposts In Kongka pass area with the first post to be established at Hot Springs. DSP Karam Singh reached Hot Springs on 20h October 2012 and then started surveying the area for further action. He was not aware at all about the fully equipped PLA soldiers entrenched in that area. DSP Karam Singh's troupe was quickly surrounded by the PLA soldiers and was asked by them to leave.
In an extremely defiant gesture, DSP Karam Singh bent down, picked up an handful of dust and touched it to his heart, indicating that the land belongs to India.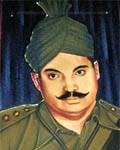 DSP Karam Singh was awarded the Indian Police Medal for his leadership and bravery for his action on 21st October 1959, when a patrol party of CRPF, led by him, was ambushed by the Chinese forces at Hot Springs ladakh and 10 jawans were killed, the bravery and resultant sacrifice of jawans fighting at 16,000 ft altitude, in extremely cold conditions and against all odds, is an epitome of the rarest of the rare courage.