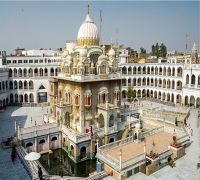 Seeks clarifications from Pakistan on key proposals
Objects to Khalistani elements got on the panel by Pakistan
New Delhi. 29 March 2019. India cancels the next Kartarpur Sahab Corridor talks scheduled for next month. It has sought clarifications from Pakistan on key proposals put forward by India at the last meeting held in Attari to discuss the modalities of the Kartarpur Sahib Corridor.India also objects to the presence of Khalistani elements got on the panel by Pakistan.
India has also shared concerns and sought clarifications on reports that controversial elements have been appointed by Pakistan to a committee to be associated with the Kartarpur Corridor. It has been conveyed that the next meeting on the modalities can be scheduled at an appropriate time after receiving Pakistan's response.

Meanwhile, in order to take forward the infrastructure development for the Corridor in an expeditious manner, India has proposed to hold another meeting of techncial experts in mid-April to resolve outstanding issues at the zero point agreed to at the last meeting.

Government of India remains committed to realise the long pending demand of the Indian pilgrims to visit the holy Gurudwara Kartarpur Sahib using the Corridor in a safe, secure, smooth and easy manner.
Meanwhile Pakistan's Foreign Ministry has issues a statement in which it has said, " We regret the Indian decision to postpone the meeting on Kartarpur Sahib Corridor to be held on 2nd April 2019 as agreed by both sides in the meeting and subsequent Joint Statement of 14 March 2019.
Pakistan on its part continues to be committed to uphold its promise to operationalise the Corridor for the 550th anniversary of Guru Nanak in November 2019. " No mention of the pro-Khalistani members on the panel.