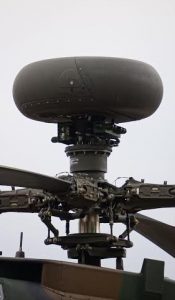 ORLANDO, Fla.. 30 April , 2016 .The U.S. Army awarded LONGBOW Limited Liability Company (LLC) a $57.1 million foreign military sale contract to provide the Indian Air Force with LONGBOW Fire Control Radar (FCR) systems for their new Apache AH-64E helicopters. LONGBOW LLC is a joint venture of Lockheed Martin (NYSE: LMT) and Northrop Grumman Corporation (NYSE: NOC).
Under this contract, $57.1 million is obligated to LONGBOW LLC with a total value not to exceed $116.7 million. The contract covers the production of 12 LONGBOW FCR systems and spares for India. Production will extend through early 2019 at Lockheed Martin's Orlando and Ocala, Florida, facilities and at Northrop Grumman's Baltimore facility.
"With LONGBOW FCR, the Indian Air Force will receive a rapid all-weather targeting capability," said Jim Messina, LONGBOW LLC president and director of LONGBOW programs at Lockheed Martin Missiles and Fire Control. "The FCR's air over-watch mode provides aircrews with 360-degree situational awareness, improving survivability and mission success."
"Our highly reliable LONGBOW FCR has been repeatedly proven in combat, protecting warfighters around the globe at an affordable cost," said Ike Song, vice president, Mission Solutions, Northrop Grumman's Land & Avionics C4ISR Division.
For more than a decade, the LONGBOW FCR has enabled Apache aircrews to automatically detect, locate, classify and prioritize targets. It enables rapid, multi-target engagement in all weather, over multiple terrains and through battlefield obscurants.