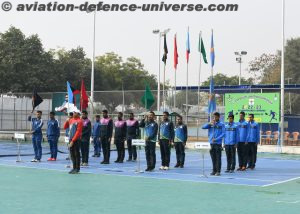 Nagpur. 12 December 2022. Inter Services Lawn Tennis Championship 2022 was inaugurated on 12 Dec 22 by Air Marshal Vibhas Pande, Air Officer Commanding in Chief, Maintenance Command. The event is being conducted under the aegis of the Services Sports Control
Board (SSCB).
Twenty Four players from the services i.e. Indian Army, Indian Navy and Indian Air Force will contest both in team and individual events during the course of the
Championship from 12 Dec 22 to 16 Dec 22. Based on the performance and their AITA
(All India Tennis Association) ranking players will get an opportunity to represent
services at the national level.
The Armed Forces has always stressed on physical fitness of their personnel
through various organised games and sports. Besides selecting potential players from
the grassroots and nurturing their talents, one of the aims of the Championship is to
promote Lawn Tennis amongst the armed forces personnel. It is expected that the
matches will be competitive from talented and experienced campaigners from each of
the four teams participating in the Championship.
The prize distribution and closing ceremony of the Championship will be held on
16 Dec 22 in the presence of senior officials from the Indian Air Force.