Islamabad should try to get its house in order
By Jai Kumar Verma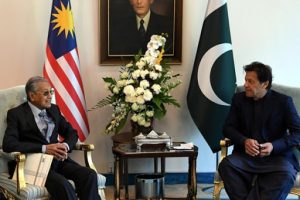 New Delhi. 07 February 2020. The 94 years old Malaysian Prime Minister Mahathir bin Mohammad raised Kashmir issue at the 74th United Nations General Assembly on 27th September. He alleged in his speech that India "invaded and occupied" Kashmir by defanging Article 370 and removing Article 35A. However, the joint press conference occurred after the two-day visit of Pakistani Prime Minister Imran Khan on 3rd and 4th February, only mentioned that the visiting prime minister raised Kashmir issue during the talks. The joint statement does not mention that both sides agreed on Kashmir. It is a clear indication that Mahathir climbed down from his previous stand on Kashmir and The Citizenship (Amendment) Act, 2019.

It was a manifest departure of Malaysian stand on Kashmir which may be the result of India's tough stand including ban on the import of palm oil. Malaysia is the second largest producer of refined palm oil and India is biggest importer of edible oil. Anwar Ibrahim the prospective successor of Mahathir also remarked that there is a change in the tone of Malaysian prime minister. Anwar who is expected to succeed Mahathir in the end of the current year, accepted that the latter had gone beyond diplomatic expressions while criticising India. He also professed that Malaysia must keep good trade and economic relations with China and India. Mahathir also indicated that Malaysia would not retaliate on India's ban on the import of palm oil. As a conciliatory gesture Malaysia also increased import of sugar from India.

Mahathir commented that he and Pakistani prime minister discussed the difficulties faced by Muslim Ummah in the world especially in Palestine and atrocities committed on Rohingya Muslims in Rakhine state of Myanmar. However, in the joint statement it was mentioned that " The Prime Minister of Pakistan briefed the Prime Minister of Malaysia on the illegal and unilateral actions of the Indian Government of 5 August 2019 and the ensuing lockdown, communications blockade, media blackout and illegal detentions in Jammu and Kashmir which have brought immense suffering to the Kashmiri people. The Prime Minister of Pakistan appreciated the efforts of Prime Minister Mahathir for raising awareness regarding the situation and underscoring the imperative of peaceful resolution of the Jammu & Kashmir dispute." The Pakistani press as well as Imran Khan used the statement to satisfy the masses in the country and to internationalise Kashmir issue.

Imran Khan promised to enhance the import of palm oil to compensate the loss because of India's restrictions. The visiting prime minister also mentioned that it is necessary to recompense as India put the restrictions because Malaysia raised Kashmir issue and criticised India.

On 6th February the Ministry of External Affairs (MEA) spokesman Raveesh Kumar criticised about the mention of Jammu and Kashmir in Pakistan-Malaysia joint statement. MEA spokesman mentioned that Malaysian leadership must understand the facts about Kashmir which is an integral part of India. Malaysian leadership should also acknowledge that Pakistan is an epicentre of terrorism.

It was the second trip of Imran Khan after becoming the prime minister as the first trip to Malaysia was in November 2018. The current visit was a damage control visit, as Imran Khan declined to attend the Kuala Lumpur Summit 2019 at the last moment under pressure from Saudi Arabia and United Arab Emirates. Both these countries saved Pakistan from financial crisis by extending financial assistance. Saudi Arabia considers Kuala Lumpur summit as an effort to create a new group in Islamic world which may be an alternative to The Organisation of Islamic Cooperation (OIC). As Imran Khan took a U-turn at the last moment, his action was widely criticised in Pakistan as well as abroad.

Imran Khan took a high-level delegation which included Shah Mahmood Qureshi the Foreign Minister, Asad Umar Minister of Planning and Development and Advisor on Commerce Abdul Razaq Dawood. Besides meeting his counterpart, Imran Khan signed few Memorandums of Understanding and also addressed the International Institute of Advanced Islamic Studies (IAIS). In the institute he shared his viewpoint on Islamophobia. Imran Khan also explained the reasons why at the last moment he avoided attending the Summit which was attended by 20 Muslim countries.

The current visit is also important as Pakistan needs the support of Malaysia in the forthcoming plenary session of Financial Action Task Force (FATF) which will be held from 16-21 February at Paris. Paris is the headquarter of FATF and its main task is to combat money laundering and curb terror funding. Pakistan which is in 'grey list' faces the danger of downgrading to 'blacklist'. Pakistan's financial system has several lacunas which are exploited by diverse terrorist outfits for money laundering and terror financing. Pakistan is passing through an economic crisis and putting it in blacklist would be an economic catastrophe as it will be difficult to get the third tranche of loan from the International Monetary Fund (IMF) which sanctioned loan of $ 6 billion.

Pakistan is back and forth in FATF's grey list since 2008. Malaysia, Turkey and China played pivotal role in saving Islamabad from downgrading to blacklist in last plenary session of FATF held at Paris in October 2019. Malaysia may save Pakistan in upcoming plenary session of FATF from downgrading to blacklist, but it will not be possible to take it out from grey list.

Both leaders have analogous views on several subjects including need of combating Islamophobia, Palestine and ill-treatment to Rohingya Muslims. Both countries signed Malaysia-Pakistan Closer Economic Partnership Agreement (MPCEPA) in November 2007. There is large Pakistani diaspora in Malaysia hence there is also people to people contact. Imran Khan not used Indian airspace but travelled from Chinese route although it took four hours more to reach Malaysia.

Imran Khan declined to attend Emergency Open-Ended Executive Committee Ministerial Meeting of Organisation of Islamic Cooperation (OIC) held on 3rd February 2020 at Jeddah. The meeting was held on the request of State of Palestine to discuss the recent developments in Israel-Palestinian struggle. Saudi Arabia which in past agreed to hold the meeting of OIC on Kashmir is now reluctant to convene Council of Foreign Ministers (CFM) immediately. Imran Khan is upset as Islamabad is unable to get support from 57 member OIC on Kashmir. He stated in a think tank in Malaysia that there is complete division in the Muslim countries and that is the reason that OIC is unable to organise a meeting on Kashmir. Pakistan Foreign Minister also stated in a press conference that Muslim ummah must give a strong and clear message to India on Kashmir.

At present Pakistan needs financial assistance from Saudi Arabia and UAE as it is passing from a difficult economic crisis. Islamabad also needs support from Turkey and Malaysia so that it is not downgraded to 'blacklist' by FATF. A leadership tussle is also going on in Muslim world. Turkish President Tayyip Erdogan has challenged the leadership of Saudi Arabia and few Muslim countries including Malaysia, Iran and Qatar are supporting Turkey. This group also wants to secure the help from Pakistan.

Currently Imran Khan is getting help from both the groups, but it may not continue for a long time hence Pakistan must adhere to the stipulations of FATF so that it comes out from 'grey list'. The nefarious Inter-Services Intelligence (ISI) should stop financing and training various terrorist outfits and should strengthen the laws so that money laundering and terror financing is curbed. Pakistan should also strengthen itself financially so that it can survive without financial assistance from other countries.
(Jai Kumar Verma is a Delhi-based strategic analyst and a retired senior intelligence officer. He is also member of United Services Institute of India and Institute for Defence Studies and Analyses. The views in the article are solely the author's. He can be contacted at editor.adu@gmail.com)