Pakistan Tehrik-e-Insaf emerges victorious in Pak elections
Deep State manipulates it's success
Grapes are sour for the rest
By J.K.Verma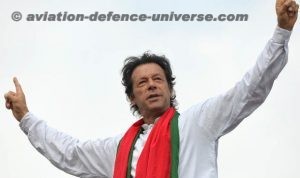 New Delhi. 26 July 2018. Imran Khan's Pakistan Tehrik-e-Insaf (PTI) emerged as the largest single party in the fiercely contested general elections held in Pakistan on 25th July. Although Election Commission has not officially announced the results but according to media reports PTI would get 119 seats in the 342 seats National Assembly, while 137 seats are required to form the government. Elections were held for 272 general seats while 70 seats are reserved for women and religious minorities. Hence PTI will need support of some smaller parties to form the government, which does not seem to be a great hurdle.
The opposition parties, large number of journalists, as well as Pakistan observers all over the world vocally feel the blatant manipulation by the election commission under instructions of the Deep State. Shahbaz Sharif President of Pakistan Muslim League (PML-N) and younger brother of ousted Prime Minister Nawaz Sharif rejected the election results in a press conference at Lahore and alleged that there were blatant irregularities. PML (N) agents were not given Form 45 and the party's polling agents were ousted at the time of counting.  Several persons could not cast votes due to long queues but election Commission has not accepted the request of PML (N) to enhance one hour voting time.  There are also reports that security personnel have arrested persons with pre-marked ballot papers.
Bilawal Bhutto Chairman of Pakistan Peoples Party (PPP) which came out third alleged wrongdoings in the elections. He mentioned on twitter that candidates as well as polling agents were "thrown out" from polling stations all over the country.
Faisal Sabzwari a leader of Muttahida Qaumi Movement (MQM) also insinuated rigging and mentioned that the results were given on plain paper instead of Form 45.
Political observers in United States also raised doubts about the fairness of the elections. Hussain Haqqani former Pakistan ambassador in US also mentioned that Imran Khan had full support of the establishment while PML (N) and PPP were facing constriction.
Human Rights Commission of Pakistan (HRCP) claimed that the election was "manipulated" and there were brazen efforts to silence the media and the candidates were threatened of dire consequences.  HRCP also maintained that the polling staff was not fair as at some places they were inclined towards one party while at some places polling staff was prejudiced towards another party. At several places women were prohibited to cast their votes.
The head of the European Union's election monitoring mission in Pakistan also mentioned that the army men present at the polling booths have provided limited access to media.
As expected, Sardar Raza Khan the Chief Election Commissioner claimed that elections were free, fair and transparent. However because of some technical problems results are delayed.
PML(N) also revealed that dominant deep state has pressurised judiciary which under fabricated cases sentenced Nawaz Sharif and his daughter Mariam Sharif for ten and seven years of imprisonment respectively. Not only this, judiciary has not granted them bail so that they cannot campaign for their party.
Pakistan military which was supporting PTI made massive security arrangements, about 370, 000 army and 450,000 police personnel were deployed for the security of 85,000 polling stations and for conduct of elections smoothly. The security agencies have also arrested 2185 persons who were expected to disturb law and order situation during elections. The elections are also important as it is second time in the history of Pakistan that one civilian government will be handing over power to another civilian government.
Not only rigging, the election 2018 was also blemished because of terrorist activities in which about 180 people including three candidates were killed while the number of injured was much more. Quetta blast occurred in front of Polling booth to deter the voters to cast their votes. Although Islamic State (IS) took the responsibility of the blast but analysts mention that sinister Inter Services Intelligence (ISI) was behind these terrorist activities. Before Quetta blast there was another suicide attack at Mastung in an election rally in which about 149 innocent people were killed.  There were few firing incidents and clashes between supporters of two parties also took place.
Candidates of several Islamist political parties and candidates with blessings of Lashker-e-Toiba Chief Hafiz Saeed were defeated in the elections. Even the son and son-in law of Hafiz Saeed could not win elections. It is a welcome sign and it indicates that the majority of Pakistan is fed up with terrorism and they want to live in peace and tranquility. In this way the silent majority of Pakistan has constrained the plan of deep state that Imran Khan should become prime minster with support of Hafiz Saeed so that they can keep him under full control. Eighty candidates of Hafiz Saeed contested elections on the tickets of Allah-O-Akbar Tehreek (AAT) a little known party as the election commission has not registered Milli Muslim League (MML) which was constituted by Hafiz Saeed to contest elections.
The cricketer turned politician Imran Khan has no experience of administration and he often blamed India for deteriorating India-Pakistan relations. He alleged that India wants to weaken Pakistan and the relations became worst after Modi became Prime Minister. The analysts mention that as deep state manipulated elections in favour of Imran Khan hence the latter will have to full-fill instructions of the Pakistani army. The sinister ISI has created several terrorist outfits to carryout terrorist activities in India especially in Kashmir hence Imran Khan has to adopt a stringent policy towards India especially Kashmir. Hence Kashmir problem will be more aggravated and Indian policy makers must chalk out a long term plan as Pakistan military will adopt a more aggressive policy towards Kashmir.  Overtly Imran Khan will welcome dialogue with India on Kashmir but he is in no position to control ISI hence recruitment, training and infiltration of terrorists in the valley will continue unabated.
Imran Khan will strengthen relations with China as Pakistan is not getting desired assistance from USA and Army has not only close relations but it is dependent on China. Beijing also plays vital role in the foreign policy of Pakistan while Islamabad also indirectly helps China by carrying out terrorist activities in India. China which welcomed the new government will insist that the hurdles coming in the way of China Pakistan Economic Corridor (CPEC) must be resolved early and Chinese interest must be protected fully.
Imran Khan also stated that he will improve ties with Saudi Arabia and Iran. Both countries have hostile relations and several terrorist outfits in Pakistan do not consider Shias as true Muslims and pledge to exterminate them. Salafi Islamic State which is strengthening itself in radical Pakistan is dead against Shias and responsible for several terrorist activities in Shia mosques and other religious places.
The improvement of relations with Afghanistan will be very difficult as Pakistani army wants to install pro-Pakistan and anti India government in Afghanistan so that it can have strategic depth there.  ISI has created several terrorist outfits which are creating trouble in Afghanistan and Afghan president and others have already told Pakistan to control these terrorists. However Pakistan launched numerous anti-terrorist operations but always distinguished between "good" and "bad" terrorists hence no action was taken against terrorist outfits carrying out terrorist activities in India and Afghanistan.
Besides foreign policy the biggest problem Imran Khan will have to encounter is the pathetic economic condition of the country. Pakistan is in no position to repay its debt. The imports are increasing while exports are decreasing. The foreign remittance is also dwindling. There is rampant corruption in the country and Imran Khan told that control of corruption will be his priority but there is widespread corruption in defence forces also and he is in no position to control it.
Pakistan is far behind in human development, education and health and it needs massive infusion of funds.
Pakistan was water  surplus country at the time of independence but at present there is acute shortage of water. Pakistan is facing population explosion and Islamic extremism has increased so much that no family planning programme is feasible. If Pakistan has to progress de-radicalisation programme has to be initiated and radicalisation should be curbed. In nutshell Imran Khan will be facing copious problems both on national and international fields and he has to solve them with empty hands. Deep state will keep an eagle eye on his activities and he will not be allowed to revamp the system as it suits the all powerful Pakistan Army.
(Jai Kumar Verma is a Delhi-based strategic analyst and a retired senior intelligence officer. He is also member of United Services Institute of India and Institute for Defence Studies and Analyses. The views in the article are solely of the author. He can be contacted at [email protected])