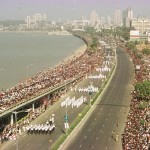 Vishakhapatnam. February 04, 2016. From the moment you board off the aircraft and walk into the Vizag Airport , you can see the men in white having taken over the city. Reception parties , Liason Officers, delegations from various nations and expectant taxi-auto services have turned the usually silent airport into a unending hustle and bustle area.
A drive into the city and it is clear that  Vishakhapatnam is a changed town all together. Huge hoardings, one-ways, jam packed roads and cordoned off Beach Road all tell you that the Indian Navy's International Fleet Review is definitely the event of the year for Vizag.
The International Fleet Review (IFR) has brought mini-India to the Port City to woo IFR delegates coming from abroad as well as from different parts of India. An IFR Village showcasing a colourful cultural melange has been set up at AU Engineering College Grounds, which will be accessible to public for the most part (except during VIP visits) between February 4 and 8 from 10 am to almost 10 pm.
The IFR village in the Andhra University Ground inaugurated by the Chief Minister N Chandrababu Naiduis drew thousands to it. Set up in collaboration with the South Central Zone Cultural Centre (SCZCC), Nagpur  102 stalls displaying handicrafts from various states of India are attracting delegates and locals alike.
The Maritime Exhibition (MAREX) based on the theme 'Innovation, Youth and Indigenisation' matches step  with the Prime Minister's Make in  India theme was also inaugurated Chandrababu Naidu.
Various Indian industries and organisations have set up 74 stalls showcasing self-reliance of the Indian Navy. Stalls by the Eastern and Western Naval Command, Brahmos, BHEL, BDL, HAL and private sectors under the categories Float, Move and Fight components set up.
The prowess of the Indian Navy along with those of more than fifty other countries are being showcased here. President Pranab Mukherjee, Prime Minister Narendra Modi, Defence Minister Manohar Parrikar, Andhra Pradesh Chief Minister N Chandrababu Naidu will attend the event.
The President will review the International Fleet, comprising over 75 battle ships and submarines off Visakhapatnam on February 6, 2016. The Review Anchorage would have will also have the ships of the Indian Coast Guard and Mercantile Marine would be participating. This display will also showcase the latest acquisitions of the Indian Navy such as the carrier borne Strike fighter MIG 29K, Long Range Maritime Reconnaissance aircraft, P8I and the AEW helicopter KM-31.
A Naval Fleet review is a ceremonial and stately inspection of the Naval Warships by the President who is the Supreme Commander of the Armed Forces. The last International Fleet Review was held off Mumbai in 2001.