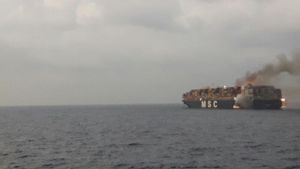 New Delhi. 05 April 2017.
 Indian Coast Guard ship Shoor is carrying out firefighting onboard a container carrier MSC Daniella, which was on passage from Singapore to Suez since 2245 hrs yesterday. 
At about 2030 hrs on 04 Apr 17, information was received from High Commission of India, Colombo regarding a request received from the Srilankan Navy to render assistance to extinguish fire onboard MV MSC Daniella which was reported to have broken on 04 Apr 17 at about 1055 hrs in position 120 Nautical Miles west of Colombo while on transit from Singapore to Suez.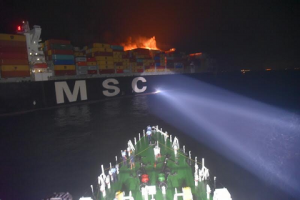 ICGS Shoor which was on overseas deployment at Colombo was sailed immediately to render assistance.  ICGS Shoor reached the site at about 2245 hrs on 04 Apr 17 and commenced fire fighting operations.  The Ship also maintained constant communication with the master of the distressed vessel to ensure safety of the crew and the vessel.
The vessel was carrying dangerous cargo and hence utmost caution was exercised in firefighting to ensure safety of the crew and the vessel.  The details of the vessel are as follows:-
(a)

        
Name           –        MV MSC Daniella
(b)

        
Flag             –        Panama
(c)

        
Type            –        General Cargo (Container)
(d)

        
Crew            –        25 (mixed Nationality)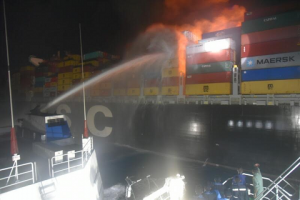 2ICGS Shoor has extinguished fire on the port (left) side of the vessel and continues to fight fire on the starboard (right) side of the vessel using external firefighting system (Water cannons mixed with foam to smother the fire).  The vessel is presently anchored 11 NM off Colombo.  The vessel is reported to be stable.
The firefighting is still in progress.  The crew of the vessel is safe.