AI can bring enormous changes in the way air wars are fought: Chief of Air Staff, IAF
 New Delhi. 05 April 2021. Air Chief Marshal RKS Bhadauria, PVSM, AVSM, VM, ADC, Chief of the Air Staff, Indian Air Force said that Artificial Intelligence (AI) for air warriors encompasses the concepts of technology, area of application and the eminent need to do it.It is like a science fiction unfolding. Artificial Intelligence (AI) is modern military technology's buzzword.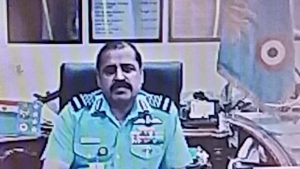 Addressing the FICCI e-Symposium on AI for Air Warriors, Air Chief Marshal Bhadauria, said that traditionally, Air Forces have been the lead consumers of all the advanced technologies before they get proliferated to other areas. "However, the past few years, we have seen an evolution of new technologies in the non-military domain that eventually got adapted by the fighting forces. AI being one of them has seen exponential growth and applicability in the commercial sector and having realised its great potential, militaries over the world are racing to embrace it. In the aerospace domain today, AI can bring enormous changes in the way air wars are fought."
AI systems when it comes to operating get unstructured and unpredictable situations and militaries bank on reliability and trust. Air Chief Marshal Bhadauria added that currently AI has not matured to an extent where completely autonomous missions can be executed. There are multiple applications wherein AI can be used more extensively for optimising air operations and compressing the OODA (observe-orient-decide-act) loop at the starting process in efficiency.
He elaborated that AI is being developed in multiple areas in the air domain to accrue diverse and asymmetrical operations benefits. "However, there is a need to address some questions to this effect- whether algorithms can be trained to effectively execute mission planning behaviours in unpredictable scenarios; can machines be taught combat strategies; could sufficiently generalised representations be built to capture the richness of the planning problem itself across the threat matrix. The answer to these questions will help us firm up our requirement specifications that will essentially be a starting document vis-à-vis the expected outcomes. If we tend to utilise AI heavily in combat aviation, we may need to redefine or even abandon certain traditional principles," he said.
The Chief informed that the Indian Air Force (IAF) has already embarked on the AI journey. "Having gone through some of the very important automation projects in the recent past, we have started testing AI and AI-based applications on various projects that are in different stages. We have already improved our operational efficacy by shrinking timelines. In the area of aircraft maintenance that we have substantially digitised, we have all our fleets onto the electronic maintenance management systems. Similarly, our entire inventory management system has become digitised. We have already started to work on AI-based formulation to come out with predictive maintenance or predictive threat scenarios or red flags," he noted.
Admiral RK Dhowan, Former Chief of Naval Staff, Chairperson, Society for Aerospace, Maritime and Defence Studies (SAMDeS) said that the aim is to empower air warriors to fight and win the wars of the future by leveraging on AI. "It is our endeavour to examine how we can leverage AI in various operations of the Air Force that could be related to combat air operations, autonomous airspace management, combat search and rescue missions or sensor to shooter integration," he added.
On AI as a critical component for modern warfare, Admiral Dhowan said that military systems that are equipped with AI have the capability to handle large amount of data in an efficient manner. AI, therefore, directly impacts and helps in promoting exponential capacity, capability, and competence among air warriors. "Another area where AI is gaining prominence and emerging as a force multiplier is the target recognition and targeting capability."
S P Shukla, Chairman, FICCI Defence and Aerospace, Committee and Group President (Defence, Aero, Agri and Steel); Member of the Group, Executive Board, Mahindra Group said, "The arms race of the near future revolves around data analysis, AI to convert data into real information and gain an edge over the adversary. In the coming days, robotics, automation, and miniaturisation will offer viable means of gaining information, conducting surveillance, and delivering ordinance. In the era of digital transformation of defence, an immense amount of capital and investment is needed to keep up pace with the change in the landscape. The adoption of technologies like big data analytics, AI-powered decision support systems and the automation of various systems are on the verge of radically altering the requirements of the defence services."
Sudhakar Gande, Co-Chair, FICCI Defence & Aerospace Committee and CEO, Jupiter Capital Pvt Ltd, Non-Executive Director, AXISCADES, Engineering Technologies Ltd said that data collection, assimilation, and analysis together drive the AI for the next generation. He further added that integrating AI in government strategies will lead to Atmanirbharta in the defence sector.
Vivek Mittal, CEO & COB, VegaMx, USA said that the entire human race is transitioning from the world of fossil fuels to renewables, and this requires real time monitoring and reporting of information.
Prof Julia Sutcliffe, PhD, Chief Technology, Officer, BAE Systems Air Sector, UK said that their proposition is to enable defence forces with some of the most complex systems in the world today.
Lt Gen David Deptula, USAF (Retd) Dean of the Mitchell Institute of Aerospace Power Studies, USA said that militaries around the world are in the midst of a transition from the industrial age of warfare to information age.