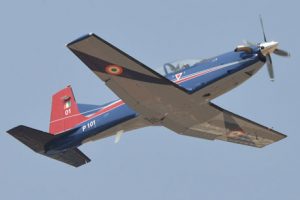 Is the Pilatus procurement to be capped?
New Delhi. 06 September 2016. It was earlier the Defence Minister and now the Chief of Air Staff. Both have been vocal about Indian Air Force to induct indigenous HTT 40 basic trainers in large numbers.
The Hindustan Turbo Trainer-40 (HTT-40) , the prototype of which was rolled out in January, is aimed at being used for the first stage training of all flying cadets of the three services.
But does this mean that IAF will procure Hindustan Aeronautics (HAL) HTT-40  and put an end to the further import of foreign-built aircraft? It may be recalled that in 2012 Indian Air Force had ordered 75 Pilatus PC-7 Mk IIs to fill the role envisioned for the HTT-40. Of the IAF's total requirement of 183 basic trainer aircraft, 75 PC-7 Mark II trainers have already been bought for Rs 2,900 crore from Swiss company, Pilatus. Last year the Defence Acquisition Council (DAC) had  said HAL as well as Pilatus Aircraft would supply the remaining trainers to fill the IAF's need. DAC, chaired by Defence Minister Manohar Parrikar, gave the green signal for buying 38 trainer aircraft from the Swiss manufacturer and added that the rest of the requirement would be met through HAL.
HAL rolled out the first prototype on 2 February 2016. The HAL HTT-40 had its first flight on 31 May 2016. The flight lasted for about 30 minutes. The aircraft  made its first public introduction flight on 17 June 2016, with Defence Minister Manohar Parrikar in attendance at the HAL airport in Bangalore. The indigenous content on HTT-40 is reported to be 80 per cent with about 75 plus systems out of the total 90 on the aircraft sourced from local players and sister divisions of Hindustan Aeronautics Limited (HAL).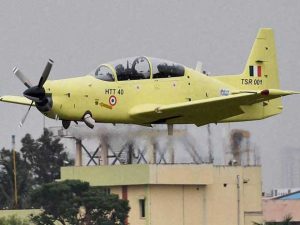 HAL projects it will build the first two HTT-40 trainers in 2018, eight in 2019, and reach its capacity of 20 a year from 2020. The cost of the HTT-40 project stands at around 54 million dollars.HAL hopes to build 200 HTT-40s, exporting a "weaponised" version to countries like Afghanistan, Myanmar, and some African customers. The planned weaponised variant of the HTT-40 will have two in-board and two outboard stations to carry weapons. It chose the Honeywell Garrett TPE331-12B turboprop to power the trainer. A Heads-Up Display is being considered. The HTT-40 is fitted with Martin Baker Zero-Zero MK16A ejection seats.
Recent rumours emanating from Air HQs indicated that the Pilatus follow on order of 38 now stands cancelled but there is no official statement on it. ADU is waiting for a response from Pilatus on this .