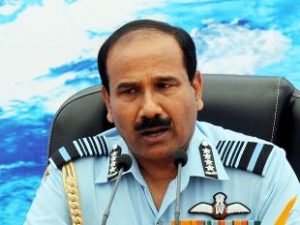 Termed PoK as a "thorn in our flesh"
New Delhi. 02 September 2016. It was explosive and made news just as the PM's Independence Day speech had made by the mention of Baluchistan. Indian Air Force Chief Air Chief Marshal Arup Raha said that Pakistan-occupied Kashmir (PoK) continues to remain a thorn in our flesh till date while  speaking at an international conference on 'Energising Indian Aerospace Industry'.
He indicated that Pakistan-occupied Kashmir(PoK) would have been India's had the country gone for a military solution rather than taking a "moral high ground". Raha added that air power had not been fully utilised by the Indian government till the 1971 Indo-Pak war.
"Our foreign policy was enshrined in the charter of the UN, charter of the Non-Alignment Movement as well as Panchseel doctrine. We have been governed by high ideals and we really did not follow a very pragmatic approach, to my mind, to security needs. To that extent, we did ignore the role of the military power to maintain conducive environment," Raha said at an aerospace seminar here," he said.
Remembering 1947 he said  that when hordes of raiders attacked Jammu and Kashmir in 1947, it was the transport planes of the IAF which helped Indian soldiers and equipment to reach the battleground.
"And when a military solution was in sight, taking moral high ground, I think we went to UN for a peaceful solution to this problem. The problem still continues. PoK remains a thorn in our flesh," he said.