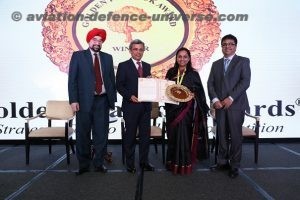 New Delhi. 12 December 2018. Honeywell Automation India Limited (HAIL) has won the Golden Peacock Award 2018 for Corporate Ethics. The award is a recognition of Honeywell's efforts in building a culture of strong corporate ethics, closely integrated with the company's overall business strategy in the region.
Over the years, Honeywell has successfully created a culture promoting integrity and fairness. Across its spectrum of business operations, Honeywell employees and representatives are trained in the company's code of business conduct which ensures – through a variety of processes and protocols – that everyone lives up to Honeywell's performance culture. The award is a testament of steadfast commitment and strict adherence to Honeywell's ethical guidelines in the entire ecosystem of its workplace.
"Commitment to integrity, supporting diversity and workplace respect are at the core of our everyday doing business," said Ashish Gaikwad, managing director, HAIL. "Adherence to the highest ethical standards and what we call Honeywell Behaviors is maintained at all levels of the company, and has proven to be our strength. We are humbled by this recognition and reaffirm our dedication to upholding the highest standards of ethics and corporate governance."
An eminent jury under the Chairmanship of Justice (Dr.) Arijit Pasayat, former Judge, the Supreme Court of India, presented this year's award at the Third Global Convention on Corporate Ethics and Risk Management on December 6, 2018, in Singapore.