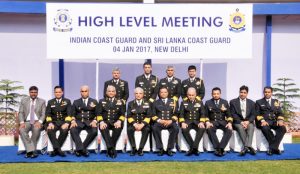 New Delhi.04 January 2016. A three member delegation led by Director General Sri Lanka Coast Guard (SLCG) Rear Admiral Samantha Wimalathunge, is on a three day visit to India from 03 January 2017 for a High Level Meeting, with the Indian Coast Guard (ICG).
The Indian delegation was led by Director General, Indian Coast Guard Rajendra Singh. The visit was in continuation of the various efforts by the governments of the two countries in furthering cooperation between the coast guards of two countries on maritime issues of mutual concerns to formulate a cooperative approach.
Of late the Sri Lankan Coast Guard has been proactive in meeting the challenges in the new global safety and security regime in this region. The recent visit is significant in providing continued impetus to the existing ties between the two organisations. The focus of the meeting was on further strengthening the operational level interaction for search and rescue, preservation & protection of marine environment, revalidating operational & communication procedures between the two coast guards.
During the visit, the Sri Lanka CG delegation also called on the Defence Secretary G Mohan Kumar and deliberated on issues of common maritime interests.During the High Level discussions, it was mutually agreed to strengthen the cooperation on evolving collaborative approach, in addressing a spectrum of maritime issues concerning safety and security and further streamlining the procedure for release/ repatriation of fishermen.