Enfield, UK. 29 June 2020 . HENSOLDT UK has completed the delivery of a fully type approved Kelvin Hughes Integrated Naval Bridge System (INBS) for Polar-class logistic ship HMNZS Aotearoa. At 26,000 tons this is one of the largest ever vessel built for the Royal New Zealand Navy and was recently delivered by Hyundai Heavy Industries.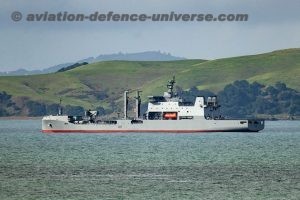 The INBS system is certified to Lloyd's Register's stringent INS code. It includes a dual redundant data distribution system and fully integrated Kelvin Hughes multifunction displays. The radar system takes advantage of the advanced solid state Kelvin Hughes SharpEye Doppler radars that bring full situational awareness to the bridge even in the most severe weather conditions.
The networked display system allows for operation as full multifunction workstations for improved ergonomic operation and redundancy. This means that the radar, the Warship Electronic Chart Display and Information System (WECDIS), the Bridge Alert Management System (BAMS) and other networked functions can be operated from any of the designated multifunction displays.
The SharpEye transceivers are located up mast in the carbon composite turning unit housing and bring additional benefits such as ease of installation and high reliability. The use of a direct drive motor system rather than the traditional antenna rotator gearbox also reduces maintenance.
Tony Taylor, Head of Naval and Surveillance at HENSOLDT UK, commented: "HMNZS Aotearoa has one of the most complex bridge systems delivered by HENSOLDT UK to date. We are pleased to see the HMNZS Aotearoa arriving in New Zealand and look forward to working with the crews for years to come."
HENSOLDT UK is active in the development, manufacture and supply of maritime navigation, surveillance and security radar systems. The company sets international standards in solid state radar sensor technology with Kelvin Hughes SharpEye and its innovative tactical and situational awareness radar display software.
SharpEye is sold into a diverse range of markets and applications from maritime navigation, port vessel traffic services and coastal surveillance to ground surveillance and maritime security applications.
With its design, development and manufacturing facility in Enfield, North London, UK, HENSOLDT UK operates a worldwide support network that meets customer requirements 24/7.