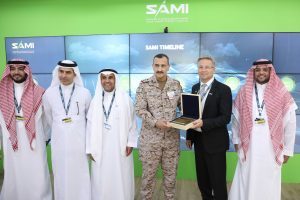 Dubai, 19 November 2019: H.R.H. Lt. Gen. Turki Bin Bandar Bin Abdulaziz Al Saud, Commander of the Royal Saudi Air Force (RSAF), visited the Saudi Arabian Military Industries (SAMI) stand at Dubai Airshow 2019 on Sunday, 17 November.
H.R.H. Lt. Gen. Turki Bin Bandar was received by Dr. Andreas Schwer, CEO of SAMI, and senior executives of the company, who briefed His Royal Highness on the latest defense technologies and products on display at the event, taking place from 17 to 21 November 2019. His Royal Highness toured the four zones at SAMI's stand that showcase the company's Aeronautics, Land Systems, Weapons and Missiles, and Defense Electronics business divisions.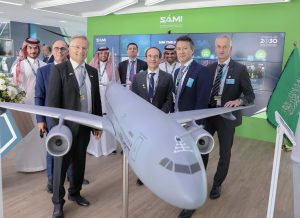 A number of industry, government, and military dignitaries and senior officials also visited the SAMI stand at the show, including Dirk Hoke, CEO of Airbus Defense and Space, and H.E. Maj. Gen. Eng. Atyah Judai Atyah, Director General of the General Department of Spare Parts, Maintenance and Repair at the Ministry of Defense.
Three of SAMI companies, namely SAMI Navantia Naval Industries (SAMINavantia), Advanced Electronics Company (AEC), and Aircraft Accessories and Components Company (AACC) are participating in the Dubai Airshow 2019 under SAMI's umbrella.