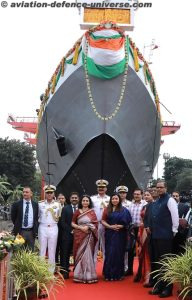 Kolkata. 21 March 2023.  As she felt water under her keel for the first time on March 21, 2023, at Garden Reach Shipbuilders and Engineers (GRSE) Ltd, INS Androth, as this warship was named in a solemn ceremony  – the  second in a series of eight Anti-Submarine Warfare Shallow Water Craft (ASW SWC) being built by GRSE Ltd for the Indian Navy –  highlighted the strategic importance of the chain of 36 islands in the Arabian Sea that are part of Indian territory.
Vice Admiral Dinesh K Tripathi, Flag Officer Commanding-in-Chief, Western Naval Command was Chief Guest at the occasion and the ASW Shallow Water ship, INS Androth was christened and launched by Mrs Shashi Tripathi, President, NWWA, Western Region.
Former Indian cricketer Shri Arun Lal was Guest of Honour during the ceremony. Lal played 16 Test matches and 13 One Day Internationals for India as an opening batsman. He now runs a cricket academy and is a columnist. He was also coach of the Bengal Ranji team till 2022.
Cmde PR Hari IN (Retd), Chairman and Managing Director, GRSE, Vice Admiral Kiran Deshmukh, CWP&A Indian Navy, Shri RK Dash, Director (Finance), GRSE, Cdr S Bose, Director (Shipbuilding), GRSE, Shri Mihir Kumbhakar, CVO, GRSE & other Senior officials of Indian Armed Forces & GRSE were present on the occasion.
The primary role of these 77 metres long, waterjet propelled ASW Shallow water crafts capable of maximum 25 knots speed is to conduct anti-submarine operations in coastal waters, Low Intensity Maritime Operations (LIMO) and mine laying operations. These ships are also capable of full-scale sub surface surveillance of coastal waters and various surface platforms and coordinated ASW operations with aircraft.
These ships may be smaller in size but will pack a lethal punch. They will carry lightweight torpedoes, ASW rockets and mines, close-in weapon system (30 mm gun) and 16.7 mm stabilized remote-controlled guns. The ASW SWC will also be fitted with hull mounted sonar and a low frequency variable depth sonar. All the ships of the Project are being built to IR Class rules for Naval Vessels. The Class Surveyors have been instrumental in ensuring construction as per Class rules.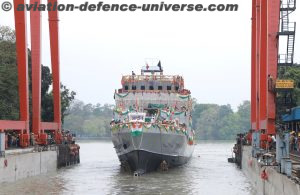 Vice Admiral Tripathi stated, "The construction of specialized ships such as these for Anti-Submarine Warfare is indeed in sync with the provisioning of a combat ready credible cohesive & future proof force, which is ready to face the existing and future challenges in the maritime domain. I am happy to inform you, the ship to be launched today has made quick progress during construction notwithstanding the vicissitudes of shipbuilding as we all know. I take this opportunity to congratulate the GRSE for being the only DPSU shipyard for receiving the Raksha Mantri Award 2022, for designing the ASW Shallow Water Craft."
Cmde P R Hari IN (Retd), Chairman and Managing Director, GRSE Ltd, highlighted the long and fruitful relations that the shipyard has had with the Indian Navy. "Garden Reach Shipbuilders and the Indian Navy go back a long way and 63 years of our coexistence has seen tremendous growth of both the organisations. We at GRSE, are indeed proud to have partnered the Navy in a quest of attaining Blue Water capability and also, in its transition from a Buyers Navy to a Builders Navy. 70 Warships were delivered to Indian Navy and 15 more under various stage of construction… in this, the sheer numbers reflect the strength of this partnership and these platforms range from Boats to Fast Attack Crafts, to Survey Vessels, to Landing Crafts to Corvettes, to Frigates, and now Anti-Submarine Shallow Water Crafts, and Advanced Frigates. GRSE is a diversified company and our USP is our product profile. From Warships to Commercial Ships to Diesel Engines, to Deck Machinery, to Portable Steel Bridges, the company is doing well, both in terms of physical and financial performance. The first ship of this ASW Shallow Water Craft project was launched on 20 Dec 22 and within 3 months of launching the first ship, here we are today to launch the 2nd ship," he said in his address.