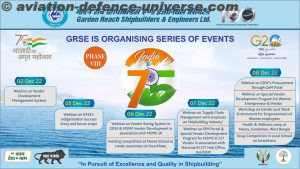 Kolkata. 09 December 2022. Garden Reach Shipbuilders and Engineers Ltd. (GRSE),a warship-building company of India, organised a series of webinars, health check-up camps, cleanliness drive and school competitions from 02 Dec 22 to 08 Dec 22 as a part of the Phase VIII of [email protected] Week- Aazadi ka Amrit Mahotsav Celebration.
The celebration of [email protected] VIII commenced with online sessions on Vendor Development Management System on 02 Dec 22, 'GRSE's Indigenisation Success Story and Future Scope' on 05 Dec 22, 'Vendor Rating Systems & MSME Vendor Development in association with MSME-DI' on 06 Dec 22, 'Supply Chain Management with emphasis on shipbuilding Industry' and IDM Portal & Special Vendor Development Program for MSME SC/ST Vendor in association with National SC/ST Hub office, Kolkata / NSIC on 07 Dec 22, and 'GRSE's Procurement through GeM Portal', 'Special Vendor Development Program for Women Entrepreneurs & Vendors' and a workshop on 'Gender Sensitization Workshop for Women Employees' on 08 Dec 22.
During [email protected] celebration, GRSE also organised cleanliness drive in Kolkata, painting & essay competition for children of Gadadhar Abhyudaya Prakalpa (GAP) Unit, Naora and health & wellness camp at Naora, Sundarban.
GRSE has successfully organised seven phases from 23-28 Apr 21, 16-22 Jul 21, 08-14 Oct 21, 31 Dec 21 to 06 Jan 22, 25 -31 Mar 22, 17-23 Jun 22 & 9-15 Sep 22. GRSE shall continue to organize such events in the coming months taking forward the Indigenisation initiative.