Kolkata. 14 October 2020. Garden Reach Ship Builders and Engineers Ltd., GRSE, a Miniratna Category 1 Defence PSU and a leading warship building company of India, operating under administrative control of the Ministry of Defence, conferred 'GRSE Shri' – the highest award for performance excellence – to its employees on 25 Sep 2020.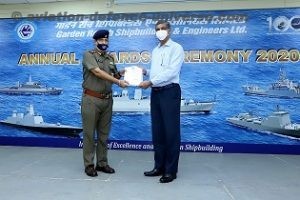 As a leading shipyard of the country, GRSE puts a high premium on its team members and in all its endeavors, places complete faith in the team members who constantly infuse vigor and dynamism to the organization. Every year the award is given to selected members of GRSE in recognition of their relentless efforts and indomitable zeal for excellence which accentuates the phenomenal growth trajectory of GRSE. The motto of the award is to uphold the spirit of reaching for higher pinnacles in maritime excellence while being firmly rooted to the commitment of constantly raising the bar. This year there was special emphasis to recognize the "Corona Warriors" too.
The 'GRSE Shri' award was given to Lt. Col Sanjay Anand, Additional General Manager (Security & Admin), Cdr SC Jha, Deputy General Manager (ES), Mr. Shivaji Guha, Manager (Shipbuilding Shop) from Main Unit and Mr. Gautam Karmakar, Deputy General Manager (MFOS) from FoJ Unit of GRSE.
In a gesture to appreciate employees for displaying significant traits of brilliance and dedicated efforts, the company also honored twenty two of its team members working in different departments, with 'Chairman's Commendation' and 'Letter of Appreciation'. Every year the awards while boosting the confidence of the recipients also inspire fellow members to perform better and attain higher goals as professionals.