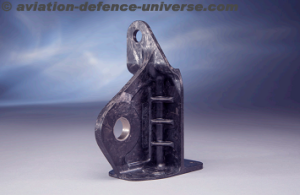 Lansdale PA, Pennsylvania. 29 May 2023. Greene Tweed, a leading global manufacturer of high-performance sealing solutions, engineered components, and custom sealed connectors, will be showcasing its products for the aerospace and defence industries at the Paris Air Show, from June 19-25th, 2023, at the Le Bourget Exhibition Center, Paris, France in Hall 2B, Stand F140. 
Greene Tweed's innovative portfolio of high-performance components aimed at the aerospace and defence markets, includes thermoplastic composite aerospace brackets, custom-engineered sealing solutions, and fibre optic connectors. Using advanced materials and precision engineering, Greene Tweed products are designed to offer consistent and dependable performance in the harshest environments and will meet the most demanding aerospace and defence application challenges. 
"Greene Tweed takes pride in our custom engineered solutions for the aerospace and defence markets," says Magen Buterbaugh, President and CEO, Greene Tweed. "With over 90% of the world's commercial and military aircraft relying on our custom engineered components and sealing assemblies, and over 50 years of experience in the market, we are experts in working with customers to find the right solution for their needs."
Products on display at the Paris Air Show will include Xycomp® DLF™ high performance, thermoplastic composite brackets. Developed as part of Greene Tweed's role as innovators in the evolution of aerospace, these brackets can endure the substantial demands of aerospace environments, while offering significant weight savings over metallic parts. They are 35 to 50 percent lighter than competitive metallic components, making them an excellent replacement for metal materials. 
Greene Tweed uses its proprietary compression moulding system to produce complex-contour shapes for near-net, intricate geometry with moulded-in features, such as bushings or attachment points. The material meets fire, smoke, and toxicity (FST) safety requirements for interior aerospace parts, and offers excellent resistance to aerospace solvents, high temperatures, and high vibrations for extended component life. In addition, Xycomp® DLF™ brackets can be recycled upon removal from an aircraft. 
Also on display will be Greene Tweed's extensive range of custom-engineered sealing solutions, manufactured from high-performance elastomers and thermoplastics. Manufactured from materials like Arlon PEEK and Avalon PTFE, the sealing solutions from Greene Tweed offer excellent resistance to extreme temperature, pressure, corrosive chemicals, and other forms of damage/degradation aircraft components and systems routinely face. The portfolio for the aerospace and defence markets includes, O-Rings, GT series of T-Seals and bearings, V-Rings and V-Stacks, double-acting Rod and Piston Seals, and Metal Spring Energized (MSE) sealing solutions. 
With an extensive electrical and fibre optic portfolio, Greene Tweed will also showcase the Seal-Connect catalogue at the Paris Air Show. Notable products include the FC DRY™ HP and ST DRY™ HP series connectors, adapters, permanent bulkhead feedthroughs, dust caps, and Fiber Protec™ series of armoured fibre optic cables. All components are available in standard as well as custom design options to provide hermetic seal integrity against moisture and particulates, under temperatures ranging from 55C to 85C, and keep fiber connectivity intact.
Seal-Connect electrical connectors can improve thermal and electrical properties with significant weight savings, when compared to traditional glass to metal sealed bulkhead connectors. Seal-Connect will also feature electrical connectors manufactured with Arlon 3000XT, a proprietary cross-linked PEEK, for increased mechanical properties at extreme temperatures ranging from 260C to 300C.
Greene Tweed products are designed to deliver highly customizable component solutions guaranteed to provide excellent performance under extremely challenging operating conditions in the aerospace and defence markets.