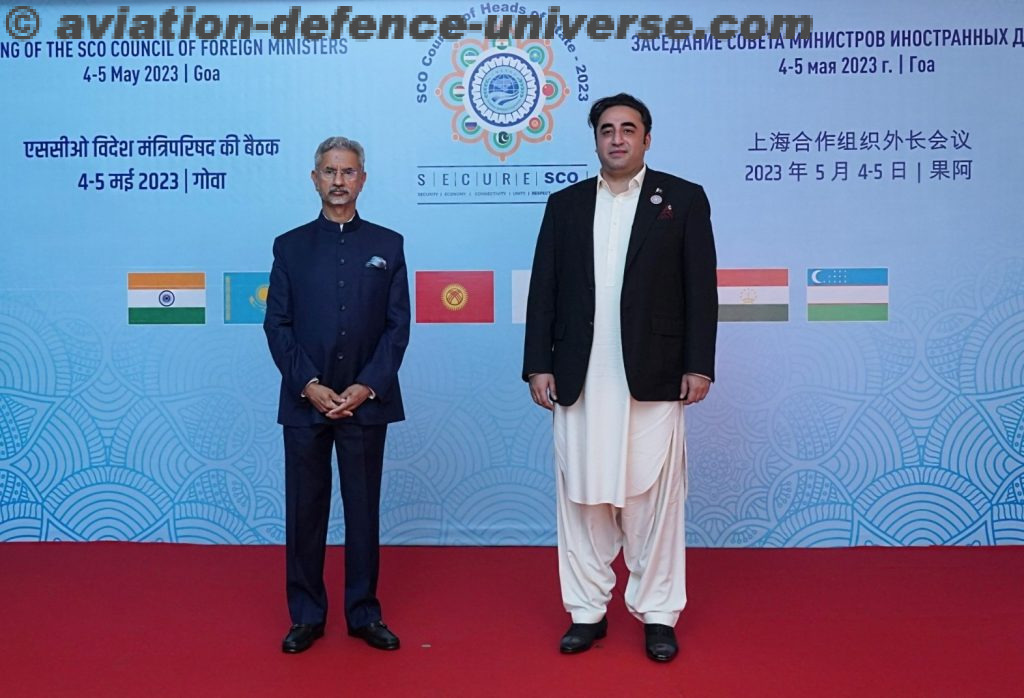 Grim face, two feet distance , smile-less photo-op & formal welcome
No bilateral meet between the two not-so-friendly neighbours
India's clear message to Pakistan that supporters & victims of terrorism cannot shake hands
By Sangeeta Saxena
Panaji Goa/New Delhi. 06 May 2023. Neither the sands of the Arabian Sea nor the peace of Mandovi Rive,  could create a smooth boat ride for the two foreign ministers S. Jaishankar of India and  his Pakistani counterpart Bilawal Bhutto Zardari. The former jhappis and pappis between Indian and Pakistani leadership were replaced by cold vibes, which were essentially from the host and why not? Does hosting the Shanghai Cooperation Organisation (SCO) meeting mean forgiving and forgetting Pakistan for it's role in supporting terrorism and terrorists by letting them operate from their soil? And that too on a day when all should have been quiet on the western and northern fronts, India lost five soldiers and has one injured  in a gunfight with militants in Jammu's Rajouri-Poonch sector.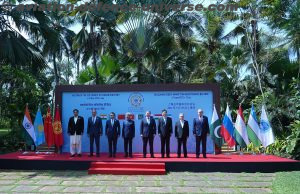 Pakistan's Foreign Minister Bilawal Bhutto Zardari came to India with the clear agenda of highlighting Kashmir issue, including the issue of G-20 meeting in Kashmir. He also wanted to show the world that Pakistan wants to have cordial relations with India. However, India gave a strong message to Pakistan. First of all, Indian Foreign Minister met foreign ministers of several countries including Russia, China, Uzbekistan, Kazakhstan, Kyrgyzstan but there was no bilateral meeting with Pakistan. India made it clear that terror and talks cannot go together.
In a jam packed press conference after the SCO meeting,  Indian Foreign Minister S. Jaishankar made it clear that Bilawal Bhutto Zardari was given due reception as a foreign minister of any country should get, but as a promoter, justifier, and spokesperson of a terrorism industry,  he was called out and countered in the SCO meetings.
"We must not allow anybody — individual or State — to hide behind non-State actors," Jaishankar said in the presence of Bilawal Bhutto Zardari and his counterparts from China, Russia, Kazakhstan, Kyrgyzstan, Tajikistan and Uzbekistan. "Taking our eyes off the menace would be detrimental to our security interests. We firmly believe that there can be no justification for terrorism and it must be stopped in all its forms and manifestations including cross-border terrorism," he added.
India has adopted a stringent view in Pakistan's objection to organising the G-20 meeting in Kashmir. Who is Pakistan to object? Jammu and Kashmir are integral parts of India and Pakistan has no locus standi to talk about Srinagar. Hence Bhutto's objection about third G20 tourism meet scheduled to be held in Srinagar from May 22-24 is of no significance. In nutshell Pakistan utterly failed in its nefarious designs and it's political analysts back home, some in subdued tones and some vocally , are calling  Bilawal Bhutto's visit a total failure.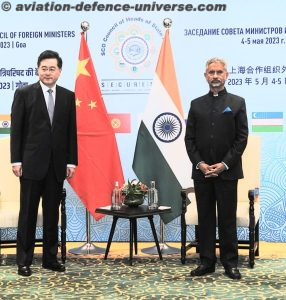 Same way India gave a firm message to Beijing. Chinese foreign minister also emphasized on good relations with India whereas the host country's stand was that China wants to continuously invades borders, instigates localised battles, claims Indian territory and assists Pakistan to continuously creating law and order problem in India. India made it clear to China too that first border issue should be resolved then other issues can be discussed. China wants to exploit India's vast market but continues border violations. "The relations between India and China cannot be normal if peace and tranquility in border areas are disturbed.  I think the issue is that there is an abnormal position in border areas. We have to take the disengagement process forward," said the Indian External Affairs Minister S Jaishankar  after his talks with Chinese Foreign Minister Qin Gang.
On 4 May 2023, SCO Secretary-General Zhang Ming who is a career diplomat, met with Minister of External Affairs of the Republic of India Subrahmanyam Jaishankar who was also a career diplomat,  on the sidelines of the SCO Foreign Ministers Council Meeting. Subrahmanyam Jaishankar praised the arrival of the SCO Secretary-General in India for the SCO Foreign Ministers Council Meeting. He noted that the agenda of India's SCO presidency focused on issues of promoting security and economic cooperation and prioritised connectivity, unity and mutual trust. India also prioritises opportunities for expanding cooperation in the field of startups, traditional medicine, the youth sphere, the Buddhist legacy, the sciences and technology. The SCO Secretary-General praised the work of India during its SCO presidency and assured  Jaishankar that the SCO Secretariat wanted to work proactively to successfully hold the main event, specifically, the SCO summit in New Delhi and to fulfill its resolutions as regards the organisation's modernisation and future development.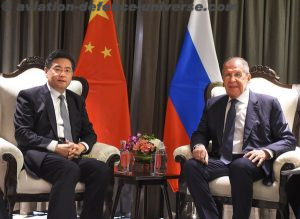 And one meeting between two foreign ministers which attracted a lot of attention was between Qin Gang and Sergei Lavrov on the sidelines of the Shanghai Cooperation Organization (SCO) Foreign Ministers' Meeting. A formal statement by Chinese Foreign Ministry said that the two sides agreed to strengthen communication and coordination with other SCO member states, uphold the larger interest of SCO solidarity and cooperation, and build the SCO into a platform of mutually beneficial cooperation for member states.
In addition to this they also stated, "the two sides agreed to strengthen coordination and cooperation within such multilateral frameworks as BRICS, the Group of Twenty, and the United Nations, oppose various forms of hegemonism, safeguard common interests of emerging markets and developing countries, and uphold international fairness and justice. The two sides agreed to strengthen communication and coordination in the Asia-Pacific, oppose a new Cold War, and maintain regional peace and stability."
And the most interesting was the discussion where the two sides exchanged views on the Ukraine crisis. Qin Gang said that China will stay committed to promoting peace talks, and stands ready to keep communication and coordination with Russia, so as to make tangible contribution to a political settlement of the crisis. Sergei Lavrov said that Russia attaches great importance to China's Position on the Political Settlement of the Ukraine Crisis, agrees with China's principled position, and stands ready to keep close communication with China in a candid manner.
Another meeting between the Pakistani and Russian foreign ministers also turned out to be an eyeball catcher.  Bilawal Bhutto-Zardari met his Russian counterpart, Sergey Lavrov, on sidelines at Goa and a Foreign Office statement from Islamabad stated, "The SCO opens new vistas of cooperation and coordination with Russia."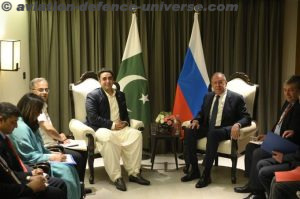 Another statement from his office stressed " The international community should also help build their counter-terrorism capacity for the security of Afghanistan, the region and the world at large. It is alarming that terrorist groups within Afghanistan are cooperating amongst themselves more than we are as the international community. As the country that will be the first but not the last to suffer the consequences, Pakistan calls on the Interim Afghan Authorities to uphold their commitments on not allowing the use of Afghan soil for terrorism. It also calls on the international community to work towards addressing these security concerns to unlock the true potential of not only Afghanistan but the region as a whole. A peaceful and stable Afghanistan is a key not only to regional integration and economic cooperation but also to global peace and stability. We believe the SCO Afghanistan Contact Group can play a role in coordinating practical cooperation with Afghanistan." Doesn't the story seem familiar where only the main characters have changed? Isn't the kettle calling the pot black?