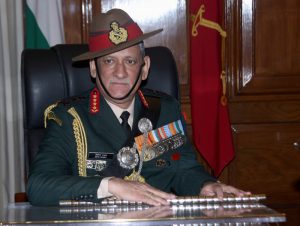 By Col NB Saxena.
New Delhi. 14 January 2017. When Rawalpindi on September 29, 2016 said in retaliation that there has been no surgical strike by India, instead there had been cross LOC fire initiated and conducted by India which is existential phenomenon and as per rules of engagement same was strongly and befittingly responded by Pakistani troops, they we are sure were only trying to reassure themselves. And nearly four months after the response, Indian Army Chief General Bipin Rawat in his first media interaction said, "we will do it again if needed and situation warrants."
"The credit of the surgical strike go to the people who actually executed it. Our aim is to maintain peace and tranquility in the nation. The aim of the surgical strikes was to give a message that we can respond if things go bad," he stated.
Pakistan's then reaction  was that the notion of surgical strike linked to alleged terrorists bases is an illusion being deliberately generated by Indian to create false effects. This quest by Indian establishment to create media hype by rebranding cross border fire as surgical strike is fabrication of truth. Pakistan has made it clear that if there is a surgical strike on Pakistani soil, same will be strongly responded.
The Indian chief alluding to this denial strongly said that insurgencies are affecting the secular fabric of the nation and we have to fight against them. Asymmetric nature of this warfare has to be addressed and resolved as we wish to resolve them. Gen. Rawat said,  "Ceasefire violations by Pakistan along the Line of Control have come down in recent times. If they had continued, we would have opted for more surgical strikes."
" Security forces together have been able to bring under control the situation in J&K. Security forces have to maintain a 24x7x365 vigil. We are willing to walk that extra mile to ensure the safety of people and their properties," he added.
"If you reciprocate in the same manner and accept peace and tranquility on the border, we will go along and the necessity of conduct of surgical strike in the future should not arise. But if that offer of peace and tranquility is not reciprocated in an appropriate manner or in a manner in which we are making that offer then this method of execution of operation will continue," Rawat said referring to Pakistan's willingness to stop giving refuge to terrorists who have only one point agenda which is of creating disturbances in J&K and attacking security forces deployed there.
Rawat, who took over as the 27th army chief on 31 December, had recently said, "We will calibrate the response in a manner that it hits them hard and compels them to think about the long run, whether they need to completely rethink their strategy on supporting insurgency and terrorism in our state."
Speaking to the media he reiterated, "we have a task given to us by the government which is to ensure territorial integrity. Offence is the best form of defence and there will always be  an element of offence in your defence strategy. Future wars will be intense and short abd then we have to be prepared to move fast. Weaknesses have to be overcome to adopt a strategy."