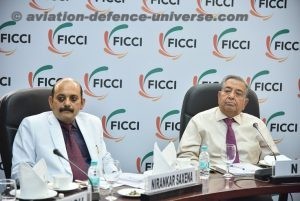 New Delhi. 14 June 2018. General Nirmal Chander Vij, former founder Vice Chairman, National Disaster Management Authority and Former Chief of the Army Staff, who took over as Chairperson of UNISDR ARISE FICCI Board, an all encompassing body on disaster risk management in FICCI, desired that ARISE FICCI approach to disaster risk reduction should be holistic with special emphasis on giving impetus to innovations, technology and new ideas in finding solutions to disaster risk management.
He also stressed on taking up urban risk management and community based disaster management in addition to developing the capacity of the industries in managing perceived disasters. He further said that Sendai Framework for DRR as well as outcome of Global Platform 2017, held in Mexico recognized that the disaster risk reduction has to become an inherent part of sustainable development, a set of practices and approaches embedded in its DNA. Without effective and inclusive disaster and climate risk management and risk-sensitive socio economic upliftment, planning will not be sustainable.
Nirankar Saxena, Deputy Secretary General, FICCI and Member Secretary of UNISDR ARISE FICCI said that "we are trying to sensitize the private sector on best practices and also showcase business opportunities in disaster risk reduction". The Board reviewed the activities of ARISE FICCI since its inception and also chalked out the strategy, themes and action plan for implementation towards Disaster Risk Reduction (DRR) in private sector in collaboration with public sector and other stakeholders. They also viewed that this forum can act as a think tank to the Government of India for disaster risk reduction activities for implementation of Sendai Framework and Sustainable Development Goals, especially in the private sector.
While discussing on the status report of ARISE FICCI and way ahead presented by Brig B K Khanna, CEO UNISDR ARISE FICCI, the members suggested that ARISE FICCI should concentrate on innovations at the local level, fire safety, use of technology and new ideas and sharing of the knowledge, identifying the training institutions on disaster risk reduction and promoting them urban risk management and management of live stocks during and after disasters.
During the Board Meeting, managing directors of the Integrated Institute of Rural Development, Shimla made presentation on the pilot project on smart panchayats – ruralizing India empowering villages (RIEV) and Operations Resilience, two initiatives under ARISE FICCI.
The meeting was attended byAnil Sinha, Founder Vice Chairperson, Bihar State Disaster Management Authority, Lt Gen J R Bhardwaj, Founder Member, NDMA, KM Singh, Founder Member, NDMA, Prof V K Sharma, Vice-Chairman, Sikkim State Disaster Management Authority, L Mansingh, Former Chairman, Petroleum and Natural Gas Regulatory Board (PNGRB), Rajeswara Rao, Adviser, Economic Advisory Council To The Prime Minister, Nirankar Saxena, Dy. Secretary General, FICCI & Co-Chair of UNISDR ROAP Advisory Working Group for Private Sector, Brig (Dr) B K Khanna, Sr. Consultant, (DM) FICCI and CEO ARISE FICCI.