The CFM LEAP engine parts manufactured in India will be sourced for GE's global supply chain
The partnership reaffirms commitment to the "Make in India" initiative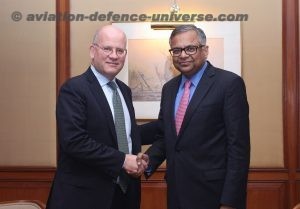 Mumbai, India & Cincinati, USA. 20 December 2017. GE and Tata group signed an agreement recently to manufacture CFM International LEAP engine components in India, for the global supply chain. The two companies also announced their intention to jointly pursue military engine and aircraft system opportunities for the India market. The LEAP engine is the world's leading jet engine known for its technological superiority, efficient fuel consumption, performance for powering single-aisle commercial jets.
Tata group is a leader in the Indian defense and aerospace sector, and we look forward to working together to meet the growing demand for LEAP engines. Our collaboration in building innovative technologies will support the 'Make in India' vision of the Indian government," said John L. Flannery, Chairman and CEO of GE.
Under the strategic partnership, GE Aviation and Tata Sons' subsidiary, Tata Advanced Systems Limited (TASL), will join forces for manufacturing, assembling, integration and testing of aircraft components. A new Centre of Excellence (COE) will be established to help develop a robust ecosystem for aircraft engine manufacturing in India and build related capabilities.
"We look forward to working with GE to build more expertise and strengthen India's defense manufacturing capabilities," said N. Chandrasekaran, Chairman of Tata Sons. "Tata group's partnership with GE will help drive synergies in defense manufacturing and focus on innovation to support our armed forces."
GE military engines have a strong history in India. GE currently provides the jet engines and marine gas turbines for many Indian military applications including the Air Force Light Combat Aircraft-Tejas Mk 1, Indian Navy P-8I aircraft, and P-17 Shivalik class frigates. Several military programs under development that include the Light Combat Aircraft-Tejas Mk 2, P-17A & P-71 ships, and the AH-64 attack helicopters will be powered by GE engines.
TASL is focused on providing integrated solutions for Aerospace, Defense and Homeland Security. It has become a significant player in the global aerospace market, becoming the premier manufacturing partner for global original equipment manufacturers (OEMs). It has capabilities throughout the aerospace value chain from design to full aircraft assembly.