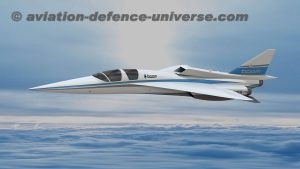 Dubai, UAE – November 10, 2017 – Boom Supersonic (Boom) the world's fastest passenger aircraft will transform travel to, from, and through the Middle East
Boom was founded with the purpose of removing barriers to experiencing the planet. To realize this vision, Boom is building a Mach-2.2 airliner—the fastest civil aircraft ever made—capable of operating economically at current subsonic business-class fares. Boom's airliner will fly 2.6 times faster than today's commercial aircraft.
Earlier this year, Boom debuted its supersonic passenger airliner, slated to enter service in 2023, to audiences in the Middle East. Boom's mission complements the United Arab Emirates' strategy of embracing new and innovative transportation solutions—and the UAE is ideally positioned to become a supersonic hub connecting Europe, Asia, and Oceania.
In June, Boom participated in the Paris Air Show, announcing 76 orders for its airliner. At the same time, the manufacturer unveiled the newest design of its XB-1 supersonic demonstrator aircraft, which is slated to fly in late 2018.
"The Gulf is home to the world's most elevated airline experiences," said Blake Scholl, Boom's founder and chief executive officer. "This year's theme in Dubai is 'The Future of Travel;' supersonic flight is the biggest leap forward since the jet, removing time barriers and allowing passengers to make business and leisure trips to destinations that otherwise would have been too far. We're excited to be here sharing our progress toward a faster future."
On Boom's supersonic airliner, a trip from Dubai to Sydney shrinks from 15 hours to just over 8, enabling a weekend holiday in Australia. Passengers traveling to London save 5 hours round-trip, enabling a day trip from Dubai to London.