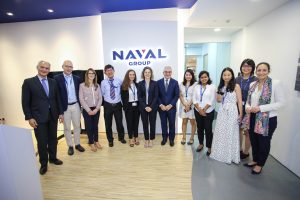 By Suresh Somu
Singapore. 23 November 2019. The key word in futuristic naval warfare is "superiority" and the smart-minded French have taken a bold step to start a first R & D (research and development) centre in Singapore.
A second is expected to open in Australia next year and this hails as "Singapore becoming our strategic centre of excellence abroad for disruptive naval innovation", says Alain Guillou, Naval Group Senior Executive Vice President.
Speaking at the recent ground-breaking ceremony, he hailed the move as a major step towards making a bigger impact in naval warfare, which has changed dramatically over the past decade.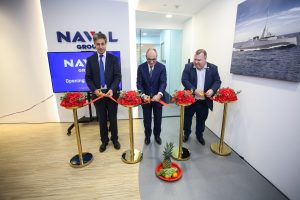 Elaborating, he said: "Trends such as Big Data, Cybersecurity, Artificial Intelligence, automation, drones and anti-drone warfare are now part of the game and we must adopt a technological stance that will allow us to deter threats before they even emerge Tomorrow the key word will be « superiority and we need to address it in all its forms."
He summed it up to:
Superiority of information: This will be at the heart of the future naval battleground stakes, in collecting data from new environments with new sensors, exploiting and computing them to drive and operate the most adapted and efficient military answers through high speed naval networks involving a wide range of ships and drones. This will be the key to win.
Superiority of stealth: In front of hypersonic missiles, mass attacks, drones and terrorism threats, never underestimate the importance of being as far as possible, invisible, undetectable and un- targetable. To evade the bullets – and missiles – it will be more and more valuable to make an extensive use of disruptive technologies to reduce the observable signature of ships, whether it be electro-magnetic, acoustic, infrared or, even, digital.
Superiority in terms of resilience: The safety at sea will rely on the efficiency of the crew. That's why we must design ships that can survive to any strikes, and to remain ready for protracted fights with your crew being less exhausted by harsh conditions encountered at sea thanks to automation and virtualisation of ship and combat management systems.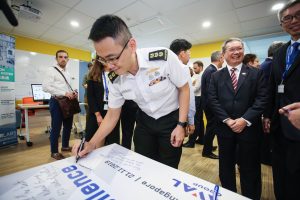 PLUS POINT IN SINGAPORE
He said that "to face all these challenges, we can't be alone, we need to seek and gain the support of the best talents throughout the world…and which place could be best but Singapore".
With a heritage of almost 400 years, Naval Group, a French industrial group takes the global forefront role in naval defence and innovator in the energy sector. Having its footprints from Brazil to Japan from France to Australia, it has an impressive 14,670 employees, based on 2018 data. The group continues to thrive as an international high-tech company, continuing with the groundbreaking initiatives.
Of high significance, the Naval Group's first international R&D centre of excellence will be spearheaded by Beatrice Nicolas-Meunier, Managing Director, VP Development & Programs R&D, Naval Group and Francois-Regis Boulvert, International Scientific Cooperation Director Naval Group.
The French-Singapore partnership in naval intelligence goes back to 2018, when Singapore Prime Minister Lee Hsien Loong graced the Bastille Day celebrations. And leaders from both nations took stock of the robust and multi-faceted partnership between both countries in security, trade, culture, research and education.
POSITION AS GLOBAL HUB
In addition, discussion about deepening co-operation and several bilateral agreements including artificial intelligence, Research and Development were discussed. Of note, Singapore is the global hub for trading and start-up and has established itself as the core for high-tech innovation and investment in the South-East Asia region.
Guillou also made it clear that naval warfare has changed dramatically over the past 10 years. And early adoption is the key for sustainability given the importance and trends such as big data, cyber security, artificial intelligence, automation, drones and anti-drone warfare. He added: "Naval group position of strength comes from design and integration of extremely complex systems. And in Singapore, the centre will focus on integration of new technologies and the pace of the innovation will be the cornerstone of common success."
Notably, the long standing bilateral and defence relations shared between France and Singapore goes back in time about 20 years ago with the Formidable class multi-role Frigates programme. With the common history shared between the two nations, it embarks on the new chapter Research and Development. As part of R&D outreach, Start We up innovation was held in June 2019.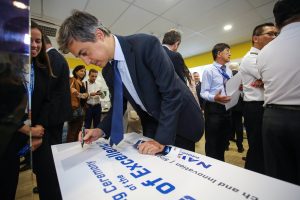 NAVAL INITIATIVES
Jointly developed between Naval Group and Defence Science and Technology Agency (DSTA), the aim is to work closely with the local Small Medium Enterprises (SMEs) and local start-ups. He said: "The purpose is to create synergies and to encourage creativity along with innovation mindset while confronting both worlds. This will be done through Naval Group technical and commercial experts to foster open innovation.
"Such innovation challenge will give rise to visibility to regional startups with deep technology expertise. The selected local companies, H3 Dynamics, Brightree Pte Ltd and Myr Labs will enter a proof-of-concept negotiation with Naval Group in order to support their innovative initiatives.
Guillou also shared a new project, MAJULAB, between National University of Singapore (NUS) and French partner, National Center for Scientific Research (CNRS). The project is to assess the impact of quantum computing in the naval domain. The second project is focused on explainable artificial intelligence that aims to enhance the multi mission drone capabilities through dedicated hackathon, to be co-ordinated from the centre of excellence, Singapore.
He also announced that a second R&D centre in Austraila will be opened in 2020. For starters, the Singapore centre of excellence will serve as a strategic centre for disruptive naval operations. In essence, innovation will serve Singapore companies, Universities or R&D players.
The French are set to make the big waves in the region. The Naval Group has a bigger game plan with the research and development activities spurring growth and technological breakthrough.