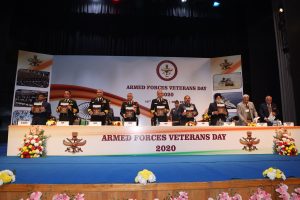 New Delhi. 14 January 2020. Armed Forces Veterans Day was celebrated at Manekshaw Centre, Delhi Cantt and several other locations across the country.
Since 2017, Armed Forces Veterans Day is observed each year on 14 January as a mark of respect and recognition of the services rendered by Field Marshal KM Cariappa OBE – fondly known as Kipper – The first Indian Commander-in-Chief of the Indian Armed Forces who retired on 14 January 1953. Commemoration of Armed Forces Veterans Day acknowledges and honours the selfless devotion and sacrifice of our veterans in the service of the nation.
Admiral Karambir Singh, the Chief of the Naval Staff was the Chief Guest at the Veterans Day function at Mankeshaw Centre. The Chiefs of Army and Air force were also present for the function. Samman and Vayu Smavedna, Army and Airforce Magazines respectively were released during the function which was attended by more than 2600 veterans, several banks, CGDA, DGR, KSB, ECHS and welfare organisations of the three services.