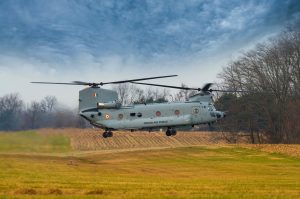 New Delhi. 10 February 2019. Indian Air Force (IAF) got an addition to its existing inventory today with the arrival of the first four CH-47F (I) Chinooks for the Indian Air Force at the Mundra Port in Gujarat. The CH-47F (I) Chinook will be formally inducted into the force later this year.

The CH-47 Chinook is an advanced multi-mission helicopter that will provide the Indian armed forces with unmatched strategic airlift capability across the full spectrum of combat and humanitarian missions. The Indian Air Force currently has 15 Chinook helicopters on order.
The crown and tail cone assembly for the Indian configuration of the CH-47F Chinook helicopter is manufactured by TASL in Hyderabad . Dynamatic Technologies builds ramps and pylons for every Chinook being built today. Rossell Techsys fabricates wire harnesses for these helicopters. India's billion dollar order means approximately $300 million worth offset liabilities for Boeing. And these choppers have this little bit of India in them.
The first CH-47F Chinook helicopter of the Indian Air Force made its maiden flight in Arizona, USA. It contains a fully integrated, digital cockpit management system, Common Aviation Architecture Cockpit and advanced cargo-handling capabilities that complement the aircraft's mission performance and handling characteristics.