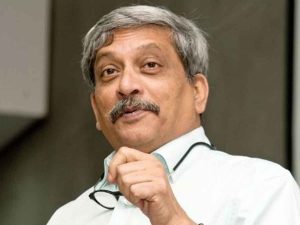 New Delhi. 17 March 2019. Finally cancer of the pancreas won the battle, former Defence Minister Manohar Parrikar currently Chief Minister of Goa was fighting for the last one year.
A B. Tech. from I.I.T. Bombay , Manohar Gopalkrishna Prabhu Parrikar was born on December 13, 1955 in Goa's Mapusa. He completed his schooling from Loyola High School, where Marathi was the medium of education. He was married to Medha Parrikar and the couple was blessed with two sons. However, in the year 2000 his wife died of cancer.
From IIT to the Goa Chief Minister's Office and a stint at South Block as the Defence Minister of India, Parrikar's political journey was fascinating. He rode on the bumpy surface very smoothly.
His political career started in the year 1994, when he became an MLA in the Goa Assembly. He soon climbed the organisational as well as legislative ladder to become opposition leader in the Goa Assembly in 1999 (from June to November). Parrikar went on to become the Goa CM on October 24, 2000 and continued to be so till February 27, 2002. However, he again became CM on June 5, 2002. His government became a minority one on January 29, 2005. He made a comeback in March 2012 Assembly elections with BJP and allies winning 24 constituencies.
He was the Chief Minister of Goa until November 8, 2014 the date on which his friend and the Prime Minister of India Narendra Modi asked him to take over as the Defence Minister of India. After a couple of years he was again chosen to return to Goa as chief minister after the March 2016 elections.There is definitely going to be a void in Goa politics with Manohar Parrikar's death.
ADU condoles the death of a defence minister , a gentleman in politics and an astute leader.