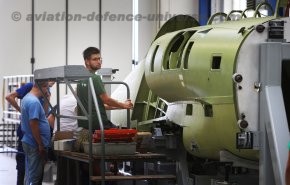 Prague. 27 August 2018. The assembly of the first L-39NG aircraft in Aero Vodochody continues in accordance to the production schedule. All sections of a fuselage have been integrated to form the final assembly structure called a cigar. This step means another important milestone of the assembly of the first L-39NG.
The airframe is now 70% complete and the new jet trainer with a fuselage number 7001 is heading to the roll-out planned for October this year. "By reaching this milestone, the L-39NG is getting its final shape, and very soon, we will be able to show the new jet trainer aircraft. The L-39NG is a new start for Aero Vodochody returning us back to the world class of proprietary aircraft manufacturers," said Giuseppe Giordo, President & CEO of Aero Vodochody.
The whole fuselage consists of 3,365 parts. Only 10% of the fuselage parts are taken from its predecessor, the L-39 Albatros, 90% are brand new. After the final assembly of the fuselage, the L-39NG project is heading towards another significant milestone, integration of the fuselage and a wing, called a marry-up. This will happen in September together with incorporation of the key systems.
By making this promising progress in the assembly of the first L-39NG aircraft, Aero is sending a strong message to the market, not only about the product's capabilities, but also about overall maturity of the project. This is attracting a lot of attention of potential customers. At Farnborough Air Show, Aero announced two agreements with two new international customers for the L-39NG and L-39CW – European provider of military aviation services SkyTech and American private company RSW Aviation for a total of 34 aircraft. In addition to the recently signed contract with Senegal, Aero has now a backlog of 38 aircraft to be produced in the next 4-5 years up to 2022.
The progress in assembly of the first new generation trainer is also welcomed by a strategic partner of L-39NG project, the Czech company Omnipol. I am glad that Omnipol joined the L-39NG project as a strategic partner. Upcoming roll-out will be a closure of an important phase of the aircraft development, and at the same time, a big shift into the next one. From our point of view, this project invigorates Czech aviation industry and represents a great promise for the future," said the president of Omnipol, Jiri Podpera.