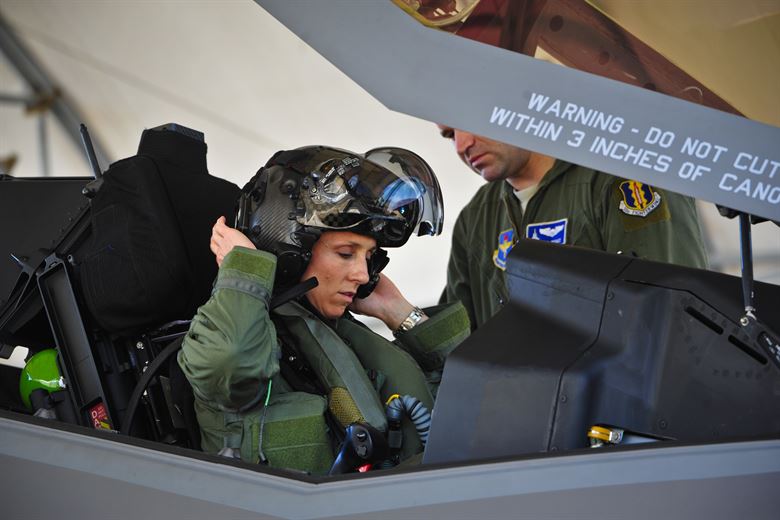 Milwaukee, Wisconsin. 15 April 2019 . Lt. Col. Christine Mau, U.S. Air Force retired, who was the first-ever female F-35 pilot, speaks to Derco employees, invited guests and media concerning the world's most capable multi-role fighter, the F-35 Lightning II.
Mau, now a Lockheed Martin F-35 instructor pilot, shares her experiences and guides new "pilots" as they fly the F-35 Lightning II interactive cockpit demonstrator on display as part of Derco's 40th anniversary events. The simulator highlights the fighter's advanced technologies and combat capabilities.
"The F-35 simulator is a great representation of how the actual jet flies and feels," Mau said. "I'm very proud to continue supporting the U.S. military and our allies training F-35 pilots."
Derco joined the Lockheed Martin team in 2015 and maintains one of the largest, most diversified aircraft spares inventories in the world. It was named one of the Top Workplaces in Milwaukee for four consecutive years by Milwaukee Journal Sentinel.
"We are extremely excited for our employees to experience the F-35 demonstrator, and thankful that Lockheed Martin provides such opportunities," said Brian Holt, president of Derco, A Lockheed Martin Company. "This is a perfect way to thank our employees as well as celebrate Derco's 40 years of supporting US and international militaries."
The F-35 program supports a broad industrial base of more than 1,400 suppliers in 45 states and Puerto Rico, contributing to more than 220,000 direct and indirect U.S. jobs and over $44.2 billion in annual economic impact. In Wisconsin, eight suppliers support the program amounting to $1.2 million in economic impact.
The F-35 will replace a wide range of aging fighter and strike aircraft. Three variants derived from a common design will ensure the F-35 provides air superiority well into the future while remaining affordable for our nation.