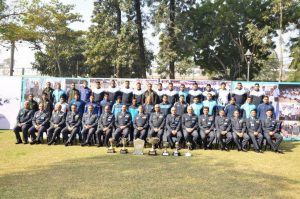 New Delhi. 01 February 2019. Headquarter Western Air Command organised an event to felicitate sportsmen for their outstanding performance in Air Force Championship. During the event, Air Marshal C Hari Kumar PVSM AVSM VM VSM ADC, Air Officer Commanding in Chief, Western Air Command felicitated the sportsmen and also gave away Rs 12 lakh to medal winners and their teams. The event was also attended by the other senior and various sportsmen of Western Air Command.
Western Air Command organizes various sports events throughout the year with an aim to inculcate sportsmanship amongst air warriors. Inter Area and Air Force Championships are such events wherein the hidden talents are identified in order to nurture them to perform at higher levels. From time to time, many air warriors have proved their mettle in Air Force Championships and subsequently represented Air Force in Services and also participated in various events at national and international events.
In the recently concluded Air Force Championship 2018-19, air warriors from Western Air Command have performed exceedingly well. Out of the 18 events, Western Air Command stood 1st in three events, 2nd in eight events and 3rd in four events. The sportsmen of Western Air Command have bagged 25 Gold, 18 Silver and 12 bronze medals.
Apart from Air Force Championship, the air warriors have also participated in various international events and have brought laurels to the nation. Recently, Sergeant S Rizvi won gold in ISSF World Cup held in Mexico, Sergeant Deepak won silver in Asian Games 2018 held in Jakarta, Junior Warrant Officer Ravi Kumar won bronze in Common Wealth Games 2018 and Leading Aircraftsman Gaurav Rana won bronze in ISSF World Cup held in South Korea.