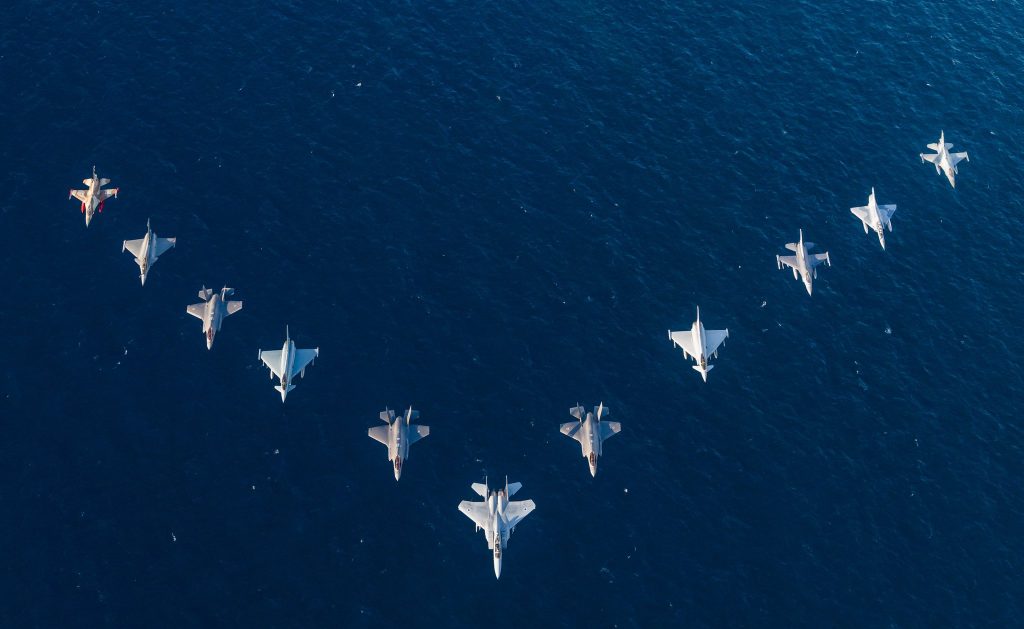 Indian Air Force participates in this joint military drill
By Chaitali Bag
Larnaca, Cyprus. 26 October 2021. It is a story of the two IAFs and many more airforces, flexing their muscles in one of the most volatile region of the world, hosted by a nation which is militarily a global power, industrially state-of-the art and geo-politically very important. The country is Israel and the occasion is a biannual "Blue Flag" exercise which is an international training exercise hosting air forces from around the world to strengthen cooperation between the nations. It is also time when Israel can flex its military muscles in the turbulent East Mediterranean to show the power of strong friendships with friends in need.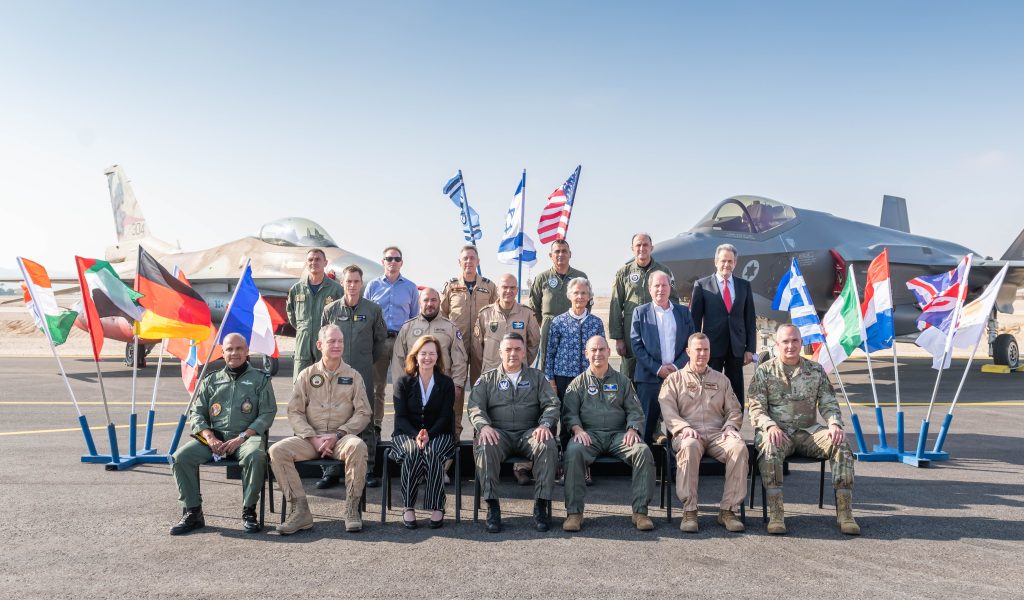 It is Blue Flag time again. Germany, Italy, Britain, France, India, Greece and the United States are all taking part in "Blue Flag 2021". The two IAFs Israeli AirForce and Indian AirForce are together in this exercise of many firsts. This is the first deployment of a British fighter squadron in Israel since the establishment of the country, as well as the first-ever deployment of an Indian "Mirage" fighter squadron in Israel, and the first deployment of a French "Rafale" fighter squadron in Israel. This year will be the largest and most advanced aerial exercise ever held in Israel.
Initially the different air forces held daytime and night time flights, and dealt with threats and challenges that increased from day to day. As far as the bond and comraderie is concerned between the different participating airforces , was strong dur to the fact they were all staying together in a single location. They fly and eat together along with holding joint briefings and debriefings.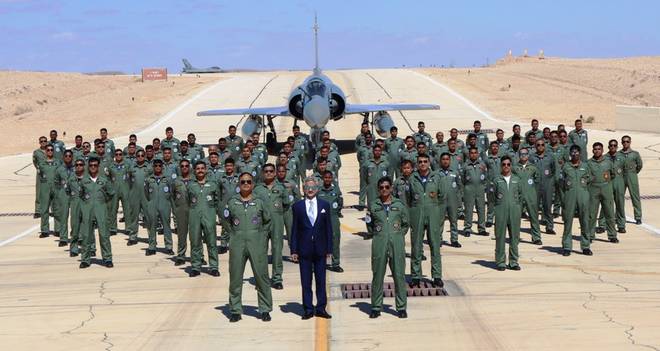 Indian External Affairs Minister S. Jaishankar visited Israel's Ovda Airbase to meet the Indian contingent participating in the exercise . 84 Indian Air Force (IAF) personnel are taking part in the exercises along with five upgraded Mirage 2000 fighter aircraft which are the latest updated technological version of the French aircraft, equipped with advanced avionics and weapons systems. Israel and India's diplomatic ties are strong and the two nations have a long history of military relations. Indian defence inventory has Israel made Phalcon AWACS (airborne warning and control systems) , Searcher, Heron and Harop UAVs (unmanned aerial vehicles) , Aerostat and Green Pine radars, Barak anti-missile defence and several types of missiles and laser-guided bombs.
"We are living in a very complicated region, and the threats to the State of Israel from Gaza, Lebanon, Syria, and Iran are only increasing. Holding an international exercise in this current reality, while continuing our public and covert operational activities on all fronts, is of utmost strategic importance and has extensive impact over the Israeli Air Force, the IDF, and the State of Israel", states Maj. Gen. Amikam Norkin, Commander of the Israeli AirForce.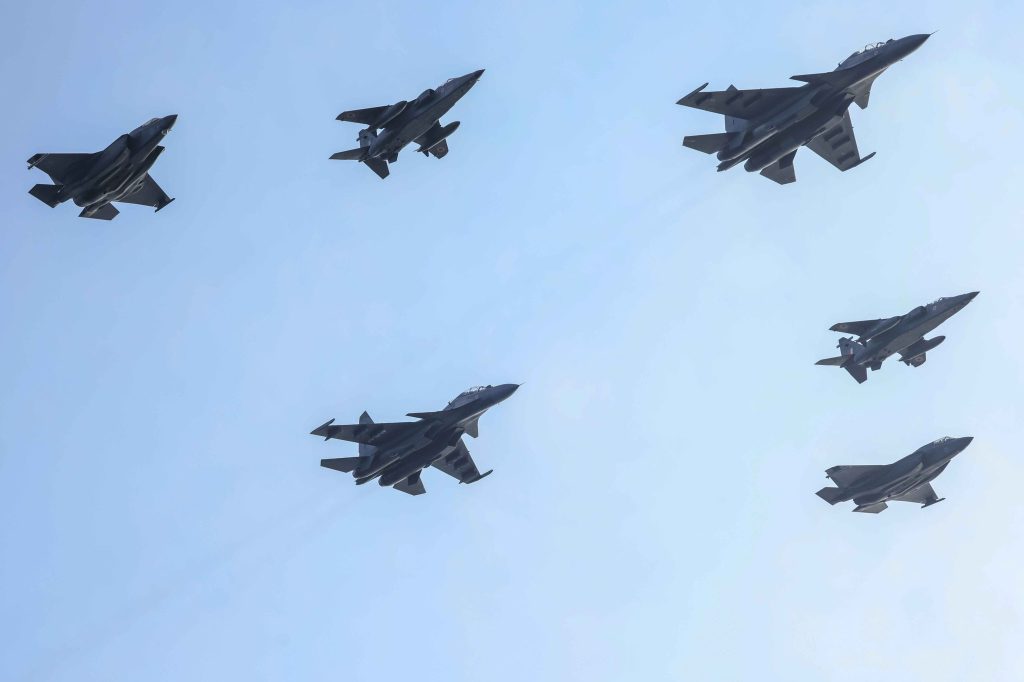 Each participating air force differs in weapon systems, combat doctrines, and operational protocols, which could pose challenges in joint training. "The participants aren't familiar with the airspace so we designed a gradual two-week-long training program", Lt. Col. E shares. "First, training scenarios designed to familiarize aircrew members with the airspace and its challenges will take place to allow for safe training in the days ahead. To start, each country will fly in separate formations and over time, we will begin flying in joint formations of different nations and platforms. Also, we will perform singular training sessions with the aim of understanding the training ground and the aerial and ground forces it contains. Lastly, we will shift to air superiority situations, simulating various ground and aerial threats while completing varying operational missions".
In a statement to the Israeli AirForce website report Flight Lieutenant Aakash, a Mirage 2000 pilot in the Indian Air Force, said: "Each air force has its own culture, both professionally and socially. Understanding how each force operates is a unique experience for us. We learn from other nations and they learn from us, that's how we manage to improve and become a better air force".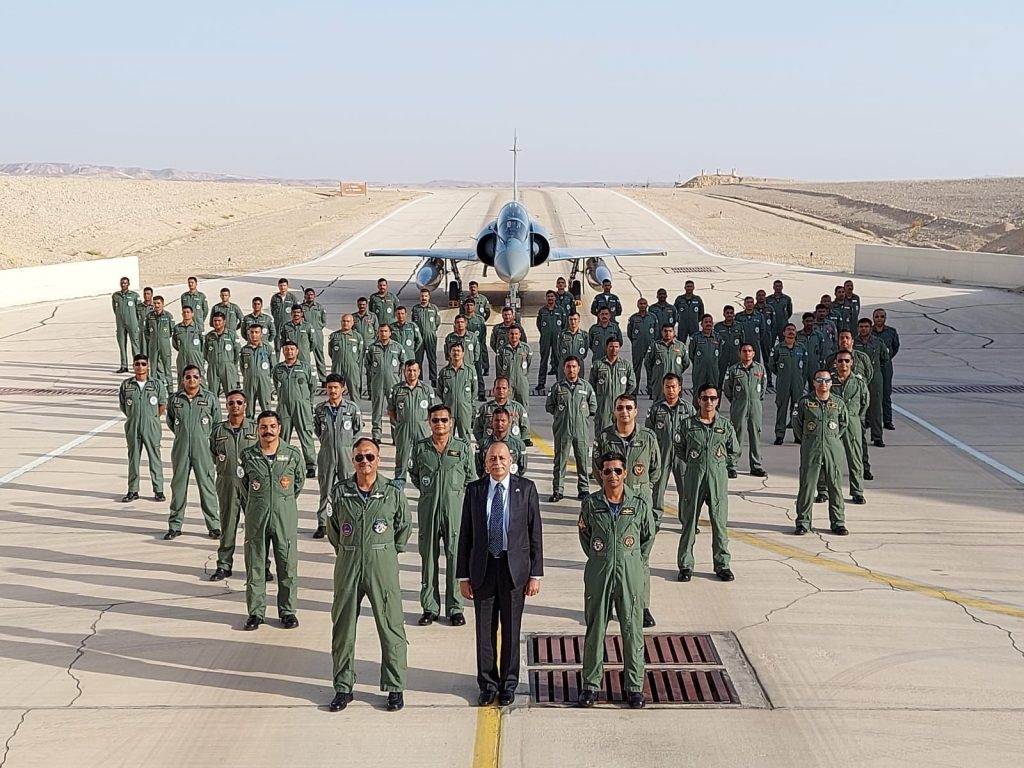 "Great to visit Ovda Air Base Israel and meet with IAF contingent participating in multinational Exercise Blue Flag. Wonderful to see the professionalism and josh of Indian Air Warriors. Making India and IAF proud," said Indian Defence Secretary Dr.Ajay Kumar, after meeting the Indian Air Force contingent at Exercise Blue Flag in Israel.
The Israeli "Sufa" (F-16I) squadrons, led by the 115th ("Flying Dragon") aggressor squadron played the role of the "red" force. Additionally, a "Yahalom" (Patriot) battery also joined the enemy simulation force.
This years' theme is the integration of fourth and fifth-generation aircraft in complex operational scenarios. "Due to the rise in the use of fifth-generation fighters around the world, this years' Blue Flag exercise will also focus on combining them with other platforms in the battlefield", explains Lt. Col. E. "Air forces understand that, at least in the near future, they will not strictly operate fifth-gen aircraft, but also the older fourth-generation platforms", he continues. "When planning the exercise, we tried to create heterogenic scenarios that combine different countries, squadrons, and generations. Fourth-generation aircraft will fly alongside fifth-generation aircraft in ways that utilize the relative advantages of each platform. Cooperation between different generation aircraft strongly enhances the power of an air force".
Another event took place for the first time which is a joint honorary flyover in Israeli skies. Maj. Gen. Amikam Norkin, commander of the Israeli Air Force, will lead the flyover in a "Baz" (F-15) alongside an Israeli "Adir" (F-35I). Lieutenant General Ingo Gerhartz, Commander of the German Air Force, will fly alongside them in the "Eagle Star" Eurofighter, which has been specially painted with the Israeli and German flags.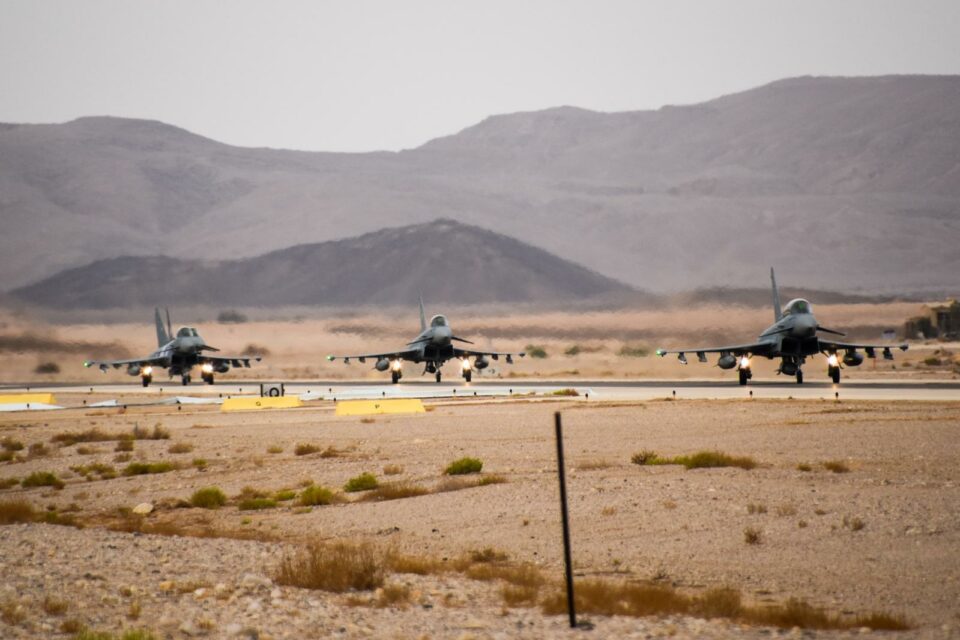 Maj. Gen. Norkin: "This exercise is groundbreaking in terms of technology, quality of training, and the number of participating nations. It illustrates the partnership and strong bond between the nation's air forces and acts as a stepping-stone toward regional and international cooperation".
"This year's 'Blue Flag' is the largest and most advanced one to date", said Brig. Gen. Amir Lazar, Head of the IAF Air Division. "Even though this is an international exercise, we are focusing on tasks that are familiar to the Israeli Air Force, so we are holding an international exercise with a hint of 'blue and white'. We are dealing with airspace defense, and border defense, a field that other countries have less experience in than we do, as well as depth strikes and ground force support. The exercise also includes 'red' aggressor forces led by the 115th ("Flying Dragon") Squadron, and SAM (Surface-to-Air Missile) batteries that simulate enemy anti-aircraft fire".
The exercise will tomorrow come to an end and the last days project an ongoing warfare scenario where each day affects the next. For instance, if the "enemy" force were to strike storage facilities on the first day, there will not be enough munitions to fight on the second and adaptations must be made. In the complex reality of the Middle East, it's important for the Israeli Air Force to be ready for joint combat. "The Middle East is a complex and dynamic region. The challenges we face are only increasing, and so we must always be one step ahead of our enemies", states Commander of the Israeli Air Force, Maj. Gen. Amikam Norkin. "The IAF trains in routine to be ready for a wide variety of emergency scenarios. We fly as one coalition, wing-by-wing, with ally air forces in a relatively small airspace. This joint training exercise allows us to learn from the participating countries and prepares the Israeli Air Forces' service members for real-time scenarios so we can continue to succeed in our overall mission – defending the State of Israel".
The German Air Force Chief was on a three days visit to Israel during the initial days of the Blue Flag. Lt. Gen. Ingo Gerhartz, laid a wreath at the Yad Vashem Holocaust museum in Jerusalem on October 17, 2021 and both the Israel Air Force Commander Major-General Amikam Norkin with Luftwaffe Commander Lieutenant-General Ingo Gerhartz led the joint fly past over Jerusalem.The German military aircraft flew for the first time above Jerusalem since World War I in show of ties.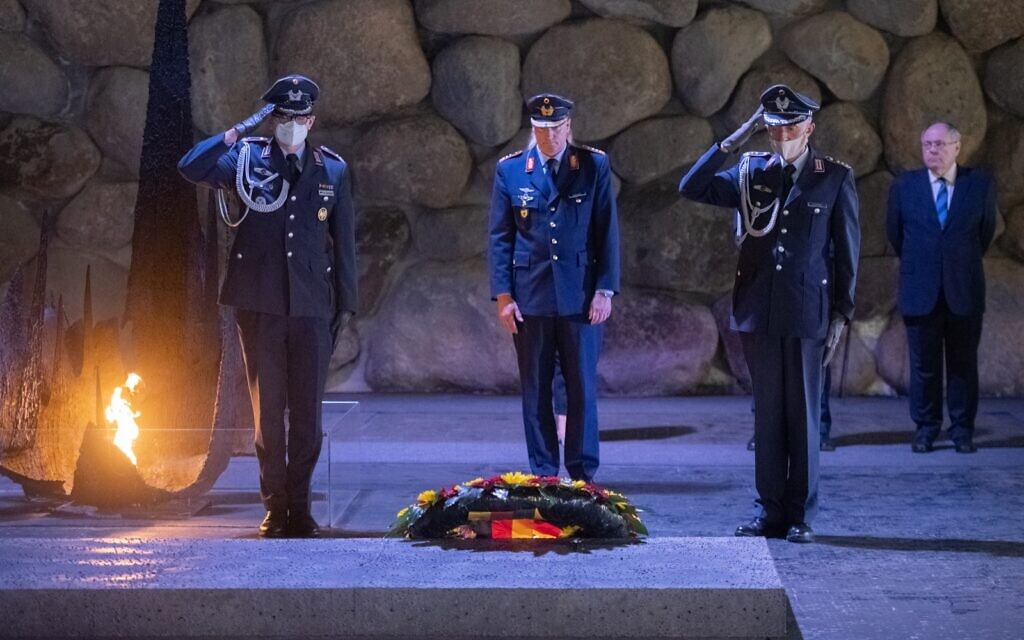 But the visit which raised most eyebrows was that of the Commander of the United Arab Emirate Air Force, Maj. Gen. Staff Pilot Ibrahim Nasser Mohammed Al Alawi, paid a historic visit to Israel to observe the Israeli Air Force's Blue Flag international air exercise despite the fact that the UAE was not participating in the exercise. Arab-Israel enmity made news but so does the new found Arab-Israel friendship.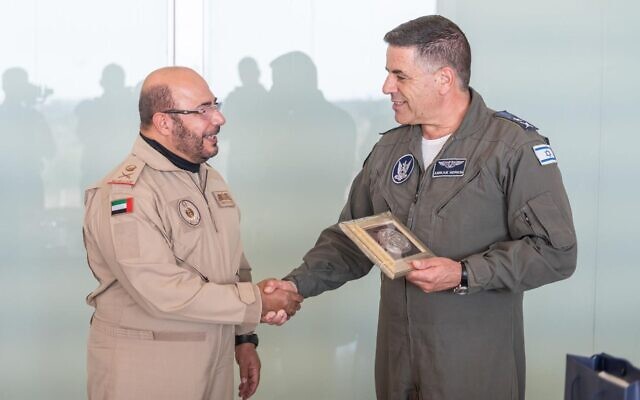 Along with the dozen of Israeli aircraft taking part are some 40 aircraft. These include six Eurofighters from Germany , five F-35 jets and five G-550 planes from Italy, six Eurofighters from Britain, five Rafales from France, five Mirages from India and four and six F-16s from Greece and US respectively. In addition personnel from South Korea, Finland, Romania, Netherlands, Japan, Australia, Croatia and others have arrived to learn from the exercise without any active participation as observers.