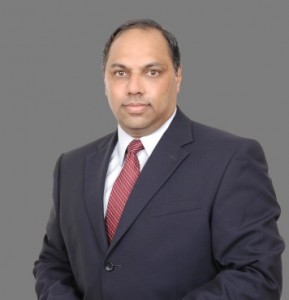 Industry veteran Rama Prasad expected to fuel further business growth in India for the company
BENGALURU, India, March 07, 2016 — Esterline Corporation (NYSE: ESL) (www.esterline.com), a leading specialty manufacturer serving the global aerospace and defense markets, today announced that Rama Prasad has been appointed as Vice President and Managing Director of Esterline India. As a part of his new responsibility, Prasad, who joined the Bellevue, Wash., USA-headquartered company in January 2016, is expected to support and increase Esterline's growth in India. Esterline has had an operational and facility presence in India for several years, mostly tied to specific product lines, but the company is now poised to serve the India market with its full array of products, including strong brands such as CMC, Korry, Leach, Souriau, and others in multiple industry segments. The company has plans to grow its existing manufacturing facility in India, taking advantage of the 'Make in India' initiative. Esterline is also investing in growing its captive development center in Bangalore.
Prasad is an aeronautical engineering graduate with a master's degree in technological operations and software systems from BITS Pilani. He also has a postgraduate degree in general management from IIM Bangalore. Prasad joins Esterline from Rockwell Collins, where he served as the Managing Director for India. He has also worked recently at Honeywell Technology Solutions. Previous work experience includes working for the India Air Force as a frontline fighter aircraft maintenance engineer and as flight test engineer, and subsequently as flight test engineer in India's Aeronautical Development Agency.
Prasad is a recipient of India's second highest gallantry award, "KIRTI CHAKRA", which he was awarded while in the India Air Force.
Prasad and other Esterline representatives will be available at the Defexpo India 2016 trade show offering additional information on the company and its capabilities in India.
About Esterline
Esterline is a specialized manufacturing company principally serving aerospace and defense markets. Headquartered in Bellevue, Wash., and listed on the New York Stock Exchange, Esterline trades under the symbol ESL.
Esterline has dozens of manufacturing facilities around the world and employs roughly 13,000 people globally. Approximately 80% of the company's revenue comes from Aerospace & Defense markets and the remaining 20% comes from Medical, Rail and other adjacent markets. Esterline focuses on three core areas: Advanced Materials, Avionics & Controls, and Sensors & Systems. The company is a Tier I supplier to Airbus and Boeing and serves many other leading aerospace and defense organizations throughout the world.