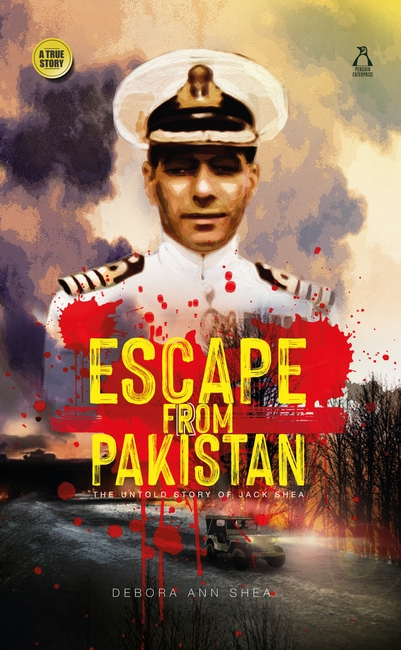 By Commodore Anil Jai Singh (Retd.)
New Delhi. 10 April 2022. 'Escape from Pakistan' a book written by Debora Ann Shea is about an extraordinary man's saga of raw courage, great valour and indefatigable resilience which deserves its rightful place in the Indian Navy's history, but of which very little was known till recently.
Commodore (then Captain) Jack Shea was India's Naval Adviser in Pakistan in 1965. In those troubled times when the two countries were at war, the cover of the Intelligence officer in the High Commission had been blown and he would definitely have been liquidated by the authorities there. Captain Jack Shea volunteered to engineer this gentleman's escape from Pakistan across the border into India. A regular Naval officer with no skills or experience of this kind of activity but lacking neither in quiet confidence or steely determination, he accompanied this man across Pakistan on foot, by camel, jeep and boat and helped him escape across the border at Karachi under the very nose of those who were trying to get him and ensured his safe return to India.
When the ISI learnt of this escape and figured out that it was jack Shea who had engineered it, he obviously became their target. At a reception in the Indian Deputy High Commissioner's residence on the eve of Republic Day the following year, he was violently attacked by a group of local ISI toughs with iron rods in the bathroom, thrown over the window on the first floor and left for dead on a garbage heap. Discovered by a waiter at the reception, the story goes on to detail his determination and will power and the indefatigable dedication of his wife and family who nursed him back to health and made him well enough to return to India and continue to serve the Indian Navy with distinction. In the 1971 conflict with Pakistan, he was in command of a Destroyer Squadron and was awarded the Ati Vishisht Seva Medal (AVSM). He is among the few officers in the Indian Navy to have been decorated with a Bar to AVSM for his distinguished service to the nation.
Debora, the youngest of the Shea children was only nine years old and at that tender age was witness to this traumatic event and the subsequent tribulations the family went through. This book is primarily about her recounting the incident in Pakistan and the period thereafter when the family battled all odds to ensure the successful treatment of her father. It also offers a fascinating insight into Jack Shea the man, the father and the soft spoken modest Naval officer, a man of few words and a steely resolve.
At a book launch in Delhi, senior Naval veterans who had served with Commodore Shea as youngsters when he was in command of the destroyer squadron also reminisced fondly about their time with him but surprisingly, none were aware of this incident and learnt of it only on reading the book. This is even more remarkable since he had lost movement of his right hand and could not write with that, a fact he concealed so well that nobody on board knew of it.
Describing this book in more detail will rob it of the sheer joy of reading it and the admiration and respect for Commodore Shea and his family. Debora has done a singular service not only to her father's memory by making this incident come alive but also contributed to India's contemporary naval history where any mention of this incident is conspicuous by its absence. The author's painstaking research to ascertain facts and her personal courage to relive those trying times is admirable without which the past, present and future generations of naval officers would have been poorer in their knowledge of men like Commodore Jack Shea who have contributed towards making the Indian navy the fine service it is today.
This book about a national hero who braved death to serve the country deserves to be read widely not only by the naval and military fraternity but by every proud Indian to understand what patriotism and service to the nation is all about.
ESCAPE FROM PAKISTAN
By Debora Ann Shea
Imprint: India Penguin Enterprise
Published: Oct/2021 ISBN: 9780670096206 Length : 224 Pages