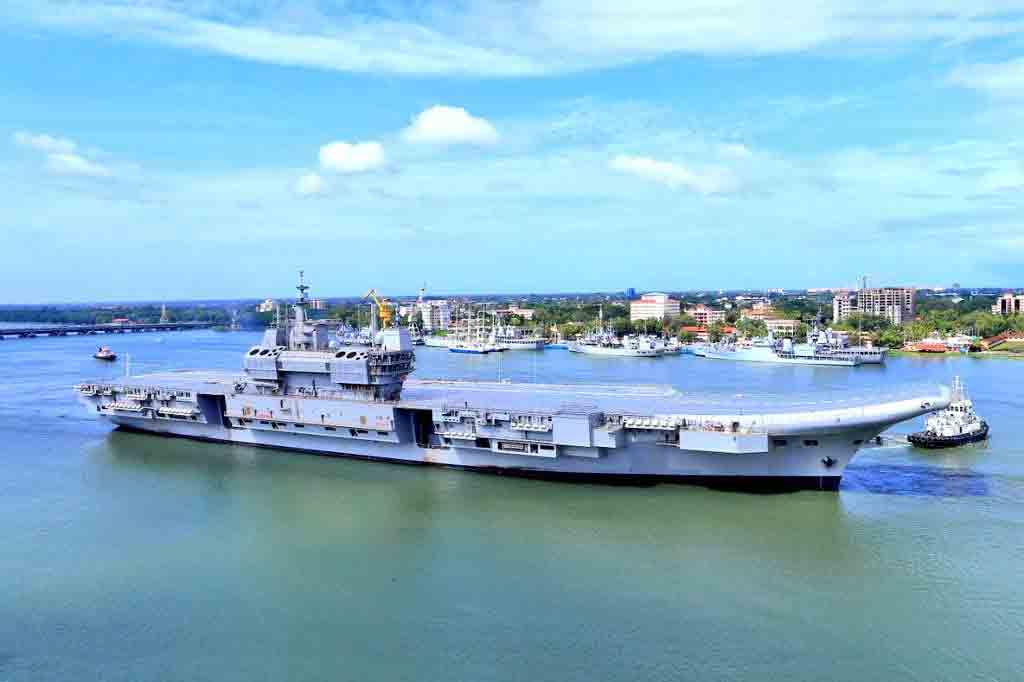 Stop the blame game & find the reasons
By Commodore Ranjit B Rai (Retd.)

New Delhi. 12 September 2021. The project for an Indigenous Aircraft Carrier germinated in 1979 and only in 1988 an Indo–French Memorandum of Understanding(MOU) was signed with DCN International in France to gain experience and learn software for a Sea Control Ship (SCS) design, a subterfuge for an aircraft carrier. The MOU involved the transfer of technology(TOT). An Indian Naval Design Liaison Team (INDLT) was deputed to DCN in 1989, and to audit whether CSL has the capability to build the carrier.
The Navy's top brass was determined to build the carrier in India based on the Navy's policy to become a Builder's Navy, now called Atman Nirbharta. The Navy has followed this policy more aggressively than other services which have relied on imports. Simultaneously the Navy has also successfully built a nuclear submarine INS Arihant in the ATV programme, as the design was bought from Rubin and Navy contracted Russia for consultancy and nuclear safety. More nuclear boats are in the pipeline.
By early 1990s, DCN and INDLT evolved designs for a 25,000 ton ski jump version and confirmed that the carrier could be built at CSL. The financial crisis of 1991 precluded sanction and the next few years were spent in juggling designs for a bigger carrier as needs changed. The grey area was the type and number of aircraft that the carrier would operate. Meanwhile, development had also commenced of the carrier-borne version of the indigenous land-based Light Combat Aircraft (LCA) by the Aeronautical Development Agency (ADA). The Air Force tabled a paper that the SU-30s could take on the task of an aircraft carrier, and files in MOD took time to move due to inter-service disagreements which appeared in the media.
Finally in 2003 the Cabinet Committee on Security(CCS) approved the project and CSL commenced construction in 2005. Procurement of steel locally and the specialized busbars from abroad that hold the stakes in the hangar took time. The nomenclature changed from Sea Control Ship (SCS) to Air Defence Ship (ADS) and finally to IAC 1 the Indigenous Aircraft Carrier. The IAC was expected to enter service by 2016, but internal re-designing, selection of equipment and financial queries to be answered took a toll as the Navy requested for changes in the design. An accident near Khapoli of the consignment of Wartsila generators while being transported to Cochin also set off a delay. A major de-novo internal change late in the day, was to rebuild accommodation for women officers.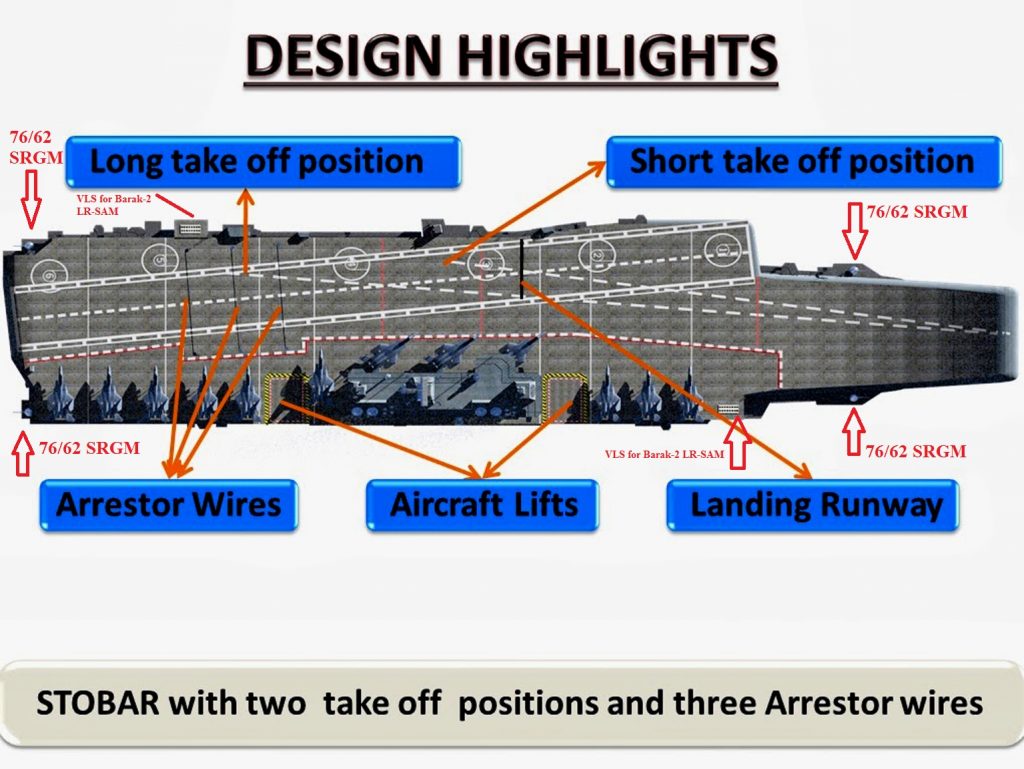 Designing an aircraft carrier for the first time is a challenge and takes time, because an aircraft carrier has a tall bridge structure on the starboard side with heavy air(L band) and surface(S and X band) radars. The designers, with the builders, have to balance the weight of the equipment, oil and water tanks below deck so that the center of buoyancy (CoB) and gravity(CoG) that cater for the displacement of the water ensures stability at sea, to operate aircraft. It needs experienced designers. Even the French Navy noted problems when they commissioned Charles De Gaulle and Britain and France joined hands to design the next class of carriers.
Hence the adage, "Rome was not built in a day", is applicable to the 37,500 ton Project 71 Indigenous Aircraft Carrier (IAC-1) built at Cochin Shipyard Ltd(CSL) named Vikrant, after India's first aircraft carrier acquired in 1961 from the UK. India became the fourth nation to operate an aircraft carrier. The earlier INS Vikrant was fitted with a catapult for launching Sea Hawk and French Breguet Alize ASW aircraft and had arrestor wires for recovery of planes called a CATOBAR design. The Navy's new Vikrant built by the CSL employs a Short Take off with arrested recovery called a STOBAR design to operate the bigger MiG29K twin engine fighters. The weight of the carrier has been kept low by foregoing the catapult and its machinery and by having a 14 degree ski ramp(see photo) for take off and retaining the three arrestor wires for the aircraft to hook on to for landing. Carrier pilots have to land with adequate throttle power to take off, if the pilot fails to hook one of the three wires, called a Bolter. It needs nerves and skill.
For Vikrant, naval designers learnt from the 44,500 ton INS VIkramaditya design which has been operating with the Indian Navy since 2014. Vikrant has a length of 252 m, breadth of 58 m, draft of 8 m, and has almost the same take off length as the Vikramaditya. The ship is propelled by four LM 2500 Gas Turbines from GE-Hindustan Aeronautics Ltd(HAL), generating 80 MW (1, 20,000 HP) to do a speed of 28 knots with an angled deck and a ski jump, to operate an air group of 30 combat aircraft and KA-31 Airborne Early Warning(AEW) helicopters and will be manned by 1500 personnel including women officers.
ADU posts this to describe the building process and explain why the carrier took longer to build and is high off cost partly because of the shambolic method of keeping track of the building and costs in a Public Sector Undertaking(PSU) Cochin Shipyard Ltd(CSL) under the Ministry of Defence Production(MOD) and dispel some statements made in the media about the carrier. In any case the final cost is comparable to one if the Navy had placed an order abroad, but the Vikrant cost includes the huge infrastructure built up, foreign exchange saved and technological spread to sub-contractors.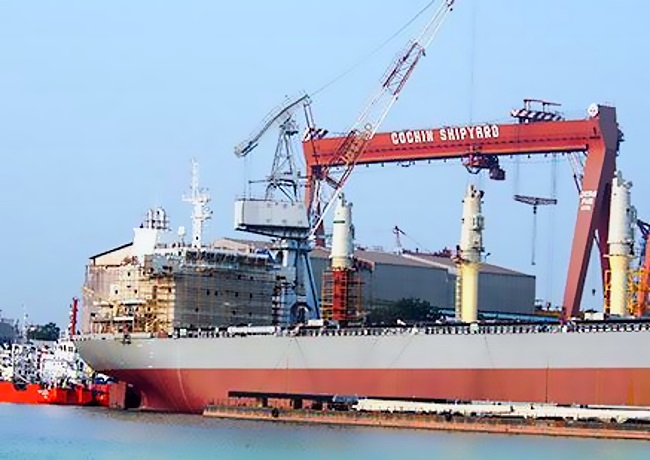 The COVID-19 shutdown delayed matters and foreign contractors for radars, lifts (from UK, Russia and USA) and such fittings could not come to set to work, but creditably basin trials were completed at a berth in Cochin on 30th November, 2020 by CSL and the Navy, in the presence of Vice Admiral A K Chawla, FOC-in-C Southern Naval Command who had commanded INS Viraat, and Shri Madhu S Nair, CMD CSL. The Indian Navy and CSL worked as a team to ensure completion of all tasks in the Basin Trials.
Finally Vikrant got underway in mid-September this year for five grueling days at sea and its main propulsion plant of four LM-2500 gas turbines fitted and meshed with the gear box with the technical consultancy of Fincantieri of Italy which had built a similar 28,00O ton aircraft carrier the Cavour, was proved. Vikrant's performed better than expectations for a first of class after extensive trials of the gas turbines, the main gear boxes, shafting and controllable-pitch propellers, along with their integrated remote control systems in the Machinery Control Room(MCR) most built in India.
In addition, major auxiliary equipment and systems such as steering gear, air-conditioning plants, compressors, centrifuges, all 60 critical pumps, fire-main system, power generation and distribution system, major fire-fighting and de-flooding systems, all deck machinery as well as entire internal communication equipment built in India were proved during the harbour and sea trials phase. Cmde N V Suresh Babu, former CMD acted as an Adviser to CSL, and Commodore Vivek Dahiya, Commanding Officer (Designate) stood by the trials and Vikrant has entered the final phase of the project to fit out equipment like the Luna landing aid, arrestor wires as fitted by Goa Shipyard Ltd(GSL) at INS Hansa with Russian consultancy at are completed. Only then, will Vikrant proceed to sea for final sea and arduous flying trials before commissioning. Prime Minister Narendra Modi has goaded the Navy to do this on India's 75th anniversary of Independence.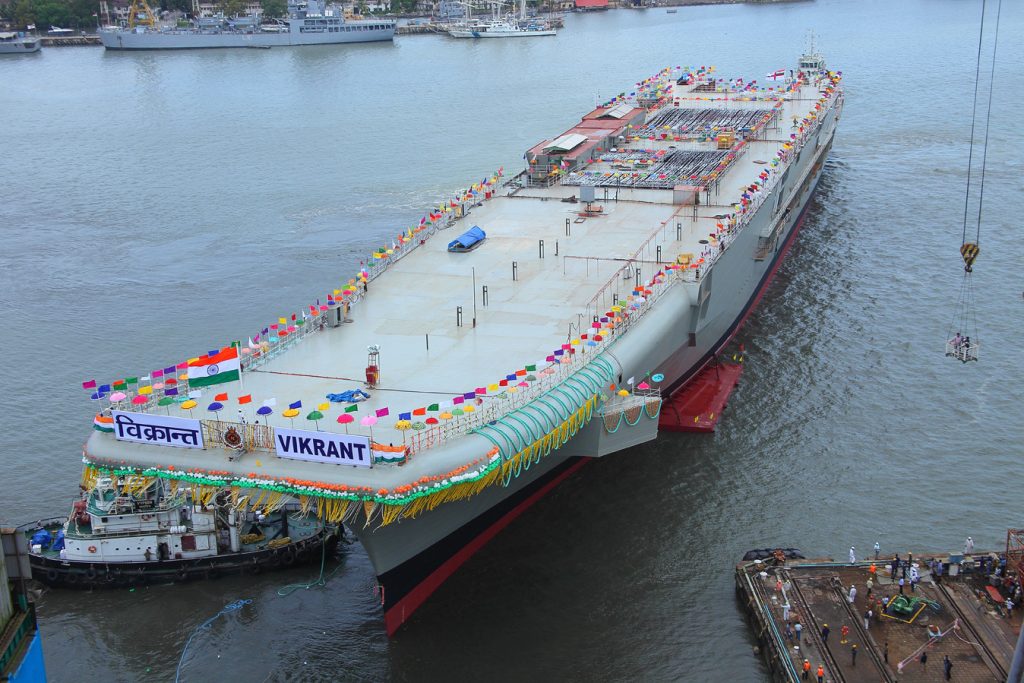 It needs noting that 75% of the material and equipment on-board the IAC-1 is indigenous. This includes 23,000 tonnes of DMR-249A steel, 2,500km of electrical cables, 150km of pipes and 2,000 valves as well as 700 finished fittings and the CMS-71 combat management system, developed and built by TATA Advanced Systems Ltd and fittings by Larsen& Toubro Ltd. .
The imperative need of three aircraft carriers is still valid, no matter what arguments are tabled by critics, that aircraft carriers are easy targets to missiles or submarines or they are 'White Elephants' for costs, or their day is over or Air Force can replace carriers and perform the tasks. The answer is a one liner in defence, "No Blue Water Warship Battle Group(WBG) can be complete without submarines and the integral air power provided by an aircraft carrier in war or out of area operations," and for the many functions that an aircraft carrier fulfills for the nation in peace in Flag showing diplomacy, Humanitarian Assistance and Disaster Relief(HADR) and in emergency evacuations.
Cmde Ranjit B Rai(retd) as an IAF and UK trained aircraft controller instructed controllers ​on INS Vikrant and was involved in Sea Harrier and future aircraft carrier studies of the Navy. He is a defence expert and author of WARRING NUCLEAR NATIONS-INDIA AND PAKISTAN (ISBN 978-93-5158-638-0). The views in the article are solely the author's. He can be contacted at [email protected]