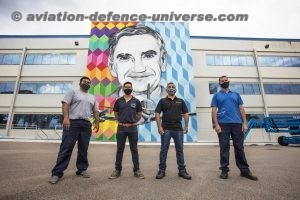 São José dos Campos, April 23, 2021 – Embraer today announced that its main industrial complex in São José dos Campos, Brazil is now named "Ozires Silva Unit." The initiative is part of a series of tributes that have been carried out this year in celebration of the engineer and former Air Force officer's 90th birthday, who led the group of visionaries responsible for the creation of Embraer in 1969.
The announcement was made at a virtual event that also unveiled a 115 m² artistic mural painted outside of the company's delivery center hangars, close to the visitors' main entrance. The 3D artwork of 11.5 meters high and 10 meters long highlights Ozires Silva and the Bandeirante turboprop aircraft, Brazil's legendary aeronautical project that resulted in the creation of Embraer.
"It is an honor to announce the decision to name our historic industrial complex to 'Ozires Silva Unit' and transform the landscape of this site with an immense artistic mural that's proportionate to the achievement of a leader who dreamed and carried out one of Brazil's most ambitious technological projects," said Francisco Gomes Neto, Embraer's CEO. "The creativity, sensitivity, precision, boldness and perfection of the paint team reflects the company's DNA of innovation, with the collaborators finding inspiration from engineer Ozires Silva."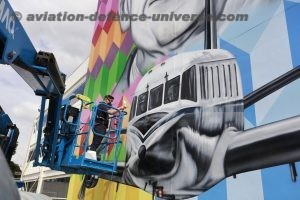 The tribute is an initiative of Embraer and the Embraer Institute, responsible for preserving and promoting the company's memory. The creation and execution of the art were conducted by the aircraft painting shop team, internationally recognized for the realistic figures and creative design on the exterior of the company's flight demonstrators and flight test aircraft, for customers on five continents. This initiative had the dedication of Embraer's employees Clodoaldo Quintana, Diego dos Santos Costa, Luiz Roberto Tenório de Almeida and Moises dos Santos Costa.
The now called "Ozires Silva Unit" started its operations on January 2, 1970, and was the production site for historic Embraer aircraft such as Bandeirante, Xavante, Ipanema, Xingu, Brasília, Tucano, AMX, the ERJ-145 family and executive jets. Currently, it mainly concentrates the development, manufacturing and support activities of commercial aircraft E-Jets E1 and E2 family.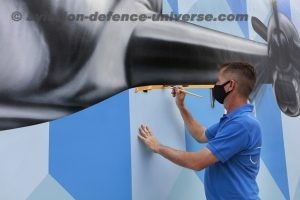 With the expansion of Embraer in multiple units throughout Brazil and around the world over the last few decades, the company's first headquarters became known as the "Faria Lima Unit," in reference to the name of the main avenue that gives access to the factory and São José dos Campos city airport.
The artistic mural and the naming of the site are added to a sequence of tributes made this year to commemorate the birthday of engineer Ozires Silva, who was born on January 8, 1931, in the city of Bauru, interior of São Paulo.