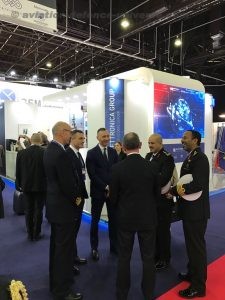 Paris. 24 October 2018. Elettronica Group is attending Euronaval 2018 with its three industrial assets – Elettronica SpA (Electronic Warfare), Elettronica GMBH (Homeland Security & EW), CY4GATE (Cyberwarfare) – as a European leader in Defence & Security, will showcase its latest naval technical solutions. Elettronica's systems are in service in more than 30 countries and deployed with their Armed Forces and Security Agencies, performing a variety of key operational missions, from Strategic Surveillance to Self-Protection, Sigint, Electronic Attack and Operational Support for naval, airborne and ground applications.
Elettronica Group boasts a long-standing tradition in the naval sector and a strong record of successful domestic and international collaborations on all the key modern military platforms, such as the Italian PPA, the Italian and French Horizon and FREMM ship class, the NFH-90 helicopter and a wide range of projects in the Gulf, Middle East and Asia. The distinctive features of its products are high sensitivity, high accuracy, a fully automatic surveillance function, and data processing for intelligence analysis (ELINT function). The performance of Elettronica's last generation products have been further improved, increasing sensitivity and accuracy.
In a complex maritime background, the proliferation of commercial traffic at sea dramatically increases the congestion of the electromagnetic environment with unwanted signals.
The intrinsically asymmetric conditions of operations are now making protection against EO/IR guided threats an increasingly important requirement for active countermeasures in this field. Currently, the Concept of Operations and User Requirements for surface ships are changing, due to the increasing requirement for using these platforms in peace keeping operations, military operations other than war, border surveillance against illegal traffic, and support for operations in Exclusive Economic Zones. In a scenario where ambiguity, uncertainty and complexity are the new variable characterizing military operations, the deployment of EW assets is changing accordingly: Electronic Warfare is more important than ever.
At Euronaval, the spotlight will be on the last, next- generation, fully European self-protection Infra-Red solution DIRCM (Direct InfraRed Countermeasure) for naval applications*. This capability has been successfully tested in many scenarios and makes full use of Elettronica's experience matured over many NATO international contexts. The immediate benefit derives from the exploitation of the aforementioned capability to address MANPADS threats, including third generation threats, also used for piracy against surface vessels in an unconventional manner. In addition, our DIRCM system, combined with the use of flares according to a sequence of jamming techniques performed by the EW Manager, represents a really effective way to counter IIR missiles (fourth generation).
* DIRCM laser propagation can be obtained using the ELT-designed, multiple band, laser system. ELT laser (based on European Quantum Cascade Technology) is able to generate beams from the typical IR countermeasure, mid-wave, infrared bands up to the innovative set of cold bands, designed to overcome specific maritime weather conditions.
New military and security challenges are arising globally in the form of new and lethal threats, and one of them is the massive growth in the use of drones. The detection, identification and neutralization capability against mini and micro UAVs, flying near sensitive areas and critical infrastructures in maritime scenarios (such as harbours, oil platforms, EEZ protection supporting vessels), is thus an emerging challenge to be confronted. Elettronica Group is successfully on the market with ADRIAN (Anti-Drone Interception Acquisition and Neutralization), the advanced anti-drone system*, and is effectively carrying out R&D activities to improve capabilities for confronting these new maritime requirements. The Group is already working with the Italian Air and Land Forces for the supply of the anti-drone capability (technical info http://www.elt-roma.com/product/adrian), as well as with a Country in the Middle East.
*The system is based on multispectral sensors (Radar, EO/IR, acoustic and radio link interceptor) data fusion for detection and identification functions, and on a reactive and adaptive jammer to interrupt the platform remote control link without interfering with the communications that insinuate in the same area, as well as the navigation aid signals used to follow programmed routes through the correct waypoints.
Euronaval will also offer Elettronica Group the opportunity to showcase the advanced EW suite for naval applications, initially developed from Italian Navy PPA vessel requirements. The core component of the suite is the EW Manager (EWMU), a computer-aided C2 fully dedicated to the EW layer and functionally integrating the EW subsystems. The presence of this important component makes the suite a System of Systems. The inclusion of an EW Manager provides an additional optimization of the EW management unit (sensor and countermeasures), based on signal correlation and fusion, threat situation, and mission status. The EWMU functionally integrates the ELT\332 CESM, ZEUS/VIRGIULIUS RECM/RESM capabilities and, in the future, the DIRCM in naval configuration.*
*The ELT\332 is part of a new generation software/firmware defined sensor designed for fast real time interception, direction finding and automatic classification of complex broadband communication signals. VIRGILIUS/ZEUS architectures are suitable for any combat or multirole platform, including naval surface/submarine platforms. VIRGILIUS is conceived to perform emitter detection, classification, identification and to counter a large variety of threats including: radar controlled Anti-Aircraft Artillery (AAA), Surface-to-Air Missiles (SAM), Air-to-Air Missiles (AAM), Early Warning, Search radars and modern Multifunction LPI Radars.